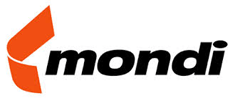 8 May 2014
Mondi SteamPack® for convenient and vitamin-rich cooking
According to research, steaming in the microwave is one of the healthiest ways of preparing food because the short cooking time preserves vitamins and minerals along with flavour, colour and texture. Mondi SteamPack® provides all these benefits and offers the utmost flexibility to food producers.
Vienna, May 2014 – Convenience and environmental aspects, such as the avoidance of excess materials, are high on the packaging agenda nowadays. The key challenges include intelligent protection and ease of preparation and handling. In a highly competitive market, these features must be combined with cost-effectiveness and attractive brand presentation. With less time available, consumers tend to buy convenience food that is fast to prepare, but nevertheless healthy.
Mondi SteamPack® is a microwaveable packaging with a self-venting function, produced with a hot-melt adhesive, for frozen, chilled and ambient-temperature food. The intelligent SteamPack® is also suitable for high-barrier modified atmosphere packaging (MAP). Furthermore, the steam valve can be applied to a multitude of different packaging solutions, such as pillow bags, stand-up pouches, lidding films or VFFS solutions. "Depending on customer requirements, the microwaveable packaging is manufactured from different base materials," explains James Warren, Managing Director of Mondi Scunthorpe Ltd. "Our flexible and intelligent concept allows us to use materials with the highest barrier properties for MAP applications. Moreover, the number of micro-holes can be varied to adjust the pressure as needed." The laser micro-perforation pattern can also be modified to provide either rows of holes in the machine direction or groups of holes in a fixed position. These packaging solutions can be processed on standard filling machines without the need for any additional investment – reflecting the principle of a plug-and-play system. Thanks to the high flexibility as regards the number of micro-perforations and the positioning of the valve, Mondi SteamPack® ensures maximum seal integrity and optimal cooking results.
High-quality, high-resolution printing in up to eight colours gives rise to an eye-catching presentation at the point of sale. Consumers benefit from healthy and vitamin-rich food preparation as well as the easy opening or peeling features of their ready-made meals. This innovative packaging solution has many applications, ranging from rice, pasta, ready meals, fish and soups to chips, popcorn and many more.
Meet our experts at INTERPACK from 8th to 14th May 2014 hall 9, booth A24/B23.
Product image: https://images.mondigroup.com/pindownload/login.do?pin=4A1N4, Code: 4A1N4
Reader enquiries
Mondi Group
Marxergasse 4A
1030 Vienna
Austria
+43 1 79013 4059
www.mondigroup.com
linkedin.com/company/mondi-group
---
Notes for editors

About Mondi Consumer Packaging
Mondi Consumer Packaging is a globally operating manufacturer of consumer packaging and hygiene components. Core competencies include manufacturing, printing, coating, as well as refining or processing of high-quality films. As a leader in innovation and technology, the products manufactured by Mondi Consumer Packaging are used in a wide variety of areas with the main focus being fast moving consumer goods (FMCG). Mondi Consumer Packaging employs around 4,000 people worldwide in 19 production operations. At the two Research and Development Centers highly qualified teams develop innovative packaging solutions and consider new raw materials, processing and refining technologies. Mondi Consumer Packaging is a business unit of Mondi's Europe & International division.
About Mondi
Mondi is an international packaging and paper Group, employing around 24,000 people in production facilities across 30 countries. In 2013, Mondi had revenues of €6.5 billion and a ROCE of 15.3%. The Group's key operations are located in central Europe, Russia, the Americas and South Africa.
The Mondi Group is fully integrated across the packaging and paper value chain - from the management of its own forests and the production of pulp and paper (packaging paper and uncoated fine paper), to the conversion of packaging paper into corrugated packaging, industrial bags, extrusion coatings and release liner. Mondi is also a supplier of innovative consumer packaging solutions, advanced films and hygiene products components.
Mondi has a dual listed company structure, with a primary listing on the JSE Limited for Mondi Limited under the ticker code MND and a premium listing on the London Stock Exchange for Mondi plc, under the ticker code MNDI. The Group's performance, and the responsible approach it takes to good business practice, has been recognised by its inclusion in the FTSE4Good Global, European and UK Index Series (since 2008) and the JSE's Socially Responsible Investment (SRI) Index since 2007.