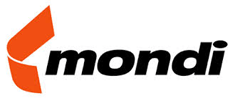 8 May 2014
Mondi Advantage Select sack kraft paper brings cost savings to Malaysian cement industry
Vienna, May 2014 – Mondi has proved the advantages of its sack kraft paper in the Malaysian cement industry, where it partnered in 2013 with leading cement producers, including YTL Cement, to create a stronger and more cost-effective packaging solution for their 50 kg cement bags.
In fact, cost savings of 10% to 25% are being achieved by cement producers as well as bag converting companies, by switching to 2-ply high porous bags made of Mondi Advantage Select sack kraft paper (available in 2-ply 80 gsm and 2-ply 85 gsm).
The main reasons for the cost savings are the greater strength and lighter weight of Mondi 2-ply high porous bags, resulting in lower paper consumption and less breakage compared to the perforated 2-ply and 3-ply bags previously used. 2-ply cement bags produced with Mondi Advantage Select sack kraft paper have superior tensile energy absorption (TEA) combined with high porosity.
Clemens Willée, CEO of Mondi Packaging Paper, said: "These 2-ply bags are the strongest in the Malaysian marketplace. With the consistent high porosity, the bags no longer require perforations, which makes filling on the rotopacker more efficient and dust-free."
Until recently, Malaysia's leading cement producers were still using perforated 2-ply and 3-ply bags. However this construction is more costly and less efficient, which led to lower performance throughout the cement supply chain. Mondi Advantage Select sack kraft paper has shown it can increase efficiency for cement producers with the 2-ply high porous construction in 2-ply 80 gsm and 2-ply 85 gsm for 50 kg cement bags.
The Malaysian cement industry requires around 200 million 50 kg cement bags per year. Unlike the industry in other Southeast Asian countries, Malaysian cement producers do not have their own bag manufacturing plants. Instead, they purchase 50 kg bags from independent bag producers such as Hasrat Meranti Sdn. Bhd., Century Bond Bhd., and Mondi (Industrial Bag) Kuala Lumpur Sdn. Bhd.
Following the success of Mondi's cement packaging solution more of the Malaysian cement industry can be expected to switch to using Mondi Advantage Select 2-ply, the most cost-effective and best-performing cement bag in Malaysia.
Reader enquiries
Mondi Group
Marxergasse 4A
1030 Vienna
Austria
+43 1 79013 4059
www.mondigroup.com
linkedin.com/company/mondi-group
---
Notes for editors

About Mondi Kraft Paper
Mondi Kraft Paper, a Business Segment of the Europe & International Division, is the leading European supplier of kraft papers and bleached as well as unbleached market pulp. The Business Segment operates six production sites and offers high-quality paper grades. The focus is on excellent runnability as well as printability, optimised converting machine productivity and customised packaging features. Mondi Kraft Paper invests in innovative research facilities and cutting edge technology. Its commitment is reflected in its investments in the R&D Innovation, the Bag Application Centres and the recently opened food safety laboratory, where packaging solutions are developed and tested in close cooperation with customers.
About Mondi
Mondi is an international packaging and paper Group, employing around 24,000 people in production facilities across 30 countries. In 2013, Mondi had revenues of €6.5 billion and a ROCE of 15.3%. The Group's key operations are located in central Europe, Russia, the Americas and South Africa.
The Mondi Group is fully integrated across the packaging and paper value chain - from the management of its own forests and the production of pulp and paper (packaging paper and uncoated fine paper), to the conversion of packaging paper into corrugated packaging, industrial bags, extrusion coatings and release liner. Mondi is also a supplier of innovative consumer packaging solutions, advanced films and hygiene products components.
Mondi has a dual listed company structure, with a primary listing on the JSE Limited for Mondi Limited under the ticker code MND and a premium listing on the London Stock Exchange for Mondi plc, under the ticker code MNDI. The Group's performance, and the responsible approach it takes to good business practice, has been recognised by its inclusion in the FTSE4Good Global, European and UK Index Series (since 2008) and the JSE's Socially Responsible Investment (SRI) Index since 2007.