31 May 2022
Milliken & Company investment advances its coating additives lab in Ohio, USA
Facility was acquired as part of Milliken's 2020 purchase of Borchers Americas, Inc
Spartanburg, S.C. – Milliken & Company ("Milliken"), a global material science expert, is excited to share that it has made a significant investment in the coating additives laboratory it acquired in 2020 as part of its purchase of Borchers Americas, Inc., in Westlake, Ohio.
Now known as "Borchers: A Milliken Brand," the acquired business was founded in 1807 as a chemical company but has since grown into a global provider of performance additives for the coatings, inks, and adhesives markets.
With the Westlake lab investment, the company now has three state-of-the-art coating additives labs globally, with the others located in Langenfeld, Germany and Shanghai, China (which was also upgraded following the acquisition).
The newly transformed lab has an open concept with a vibrant, energizing workspace and upgraded equipment. Designed specifically for coating additives lab work, the space is organized to increase efficiency and collaboration while also providing a safe and comfortable working environment. "We are thrilled with the improvements made in the lab," said Loulou Rozek, who leads the global technical service team at the facility. "It's exciting to see that Milliken is investing in both the business and associates by improving the workspace."
A priority of the remodel was creating an ergonomic work environment that provides a positive, safe atmosphere. "I'm proud to work for a safety-focused company that cares about the health of its people" said Ryan Outrich, technical service chemist.
Milliken took an associate-first approach to the lab update by asking the laboratory team to lead the remodel, allowing associates to design not only the layout but the aesthetic as well. The coating additives team is used to working with colorful paints and wanted a bright, energizing space, selecting vibrant purple, green and orange accent colors to promote creativity. "It's gratifying to work for a company that asks its lab associates to help design their own workspace," says Allison Abbey, technical service chemist and co-supplier manager. "I get excited to go to work every day."
In addition to workspace redesign, Milliken invested heavily in lab and test equipment along with expanding the team. "The lab's sophisticated new equipment can generate state-of-the-art data for our customers," Rozek said. The addition of equipment, associates and an upgraded layout approximately doubles project capacity, enabling Milliken to further support customers.
The team began working in the upgraded lab in March and is now welcoming customers to schedule tours, demonstrations, and trainings.
In the future, Milliken plans to further expand their coating additives labs into other regions such as India and Brazil.
Reader enquiries
Milliken & Company
Veerle de Wolf
Ham 18-24
B-9000 GENT
Belgium
www.milliken.com/en-us/businesses/chemical
---
Notes for editors
About Milliken & Company
Milliken & Company is a global manufacturing leader whose focus on materials science delivers tomorrow's breakthroughs today. From industry-leading molecules to sustainable innovations, Milliken creates products that enhance people's lives and deliver solutions for its customers and communities. Drawing on thousands of patents and a portfolio with applications across the textile, flooring, specialty chemical and healthcare businesses, the company harnesses a shared sense of integrity and excellence to positively impact the world for generations. Discover more about Milliken's curious minds and inspired solutions at milliken.com and on Facebook, Instagram, LinkedIn and Twitter.
About Borchers: A Milliken Brand
Borchers: A Milliken brand is one of the world's leading brands of coating additives, committed to the continuous development and improvement of coatings systems across the spectrum of chemistries, applications, and end markets. Borchers: A Milliken Brand products make the world safer and more colorful and enhance quality of life every day. Discover more at borchers.com and on LinkedIn.
Milliken, and the Milliken logo are registered trademarks of Milliken & Company in the US, E.U. and elsewhere.
Related images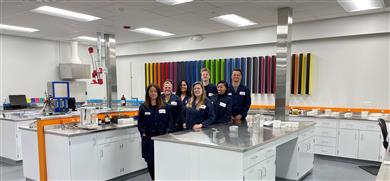 Editorial enquiries
Molly Maurer
Milliken & Company
Kim Lommaert
EMG