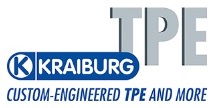 16 Oct 2018
Ideal for multi-component applications with food and mouth contact
KRAIBURG TPE compounds with excellent adhesion to PA
At Fakuma 2018, KRAIBURG TPE will introduce the FC/AD/PA THERMOLAST® K series – a product providing a wide range of design options and cost-effective processing that are intended to meet sophisticated TPE/PA applications in the consumer industry.
Ranging from softness to good grip to sealing functions – thermoplastic elastomers (TPEs) offer attractive advantages that are important for many high-quality consumer goods. To consistently open up this potential, KRAIBURG TPE will present an innovative TPE technology that features outstanding adhesion to polyamides and complies with Regulation (EU) No. 10/2011 for food contact at the 26th international trade fair for plastics processing, Fakuma.
The compounds of the new FC/AD/PA THERMOLAST K series are characterized by excellent processability and superior surfaces that require no finishing after leaving the mold. The cost-effectively processable materials can directly be injection-molded onto PA6 and PA6.6 without any additional adhesive primer – translucent or precisely colored. With hardness degrees ranging between 40 and 80 Shore A, they combine tactile properties such as soft-touch and non-slip grip even at low wall thicknesses. They also provide superior tensile strength, elongation at break and abrasion resistance. Even during the development of these special TPEs, established requirements such as Regulation (EU) No. 10/2011 have been taken into account.
That's why the technology of the FC/AD/PA THERMOLAST K series is targeted specifically at manufacturers and processors in the consumer and food industries. Typical examples of applications are tool components that comply with food regulations as well as handles and surfaces of household appliances such as coffee machines and juicers. Further possible applications include health care aids from interdental brushes to eyeglasses frames to hearing aids, along with a wide array of cosmetics and sports articles.
"These materials that have been specially developed for the consumer industry underline the way in which our development know-how is resolutely oriented towards our markets and customers," says Dirk Butschkay, Product Marketing Manager EMEA at KRAIBURG TPE. "They meet the increasing demand for thermoplastic elastomers that provide both promotional and functional properties in two-component applications with polyamides and help our customers maintain their competitiveness in dynamic market segments."
Visitors to the 26th Fakuma in Friedrichshafen from October 16 to 20, 2018, can obtain information about this and other materials technologies of KRAIBURG TPE from first hand at booth 5303 in hall B5.
Reader enquiries
KRAIBURG TPE GmbH & Co. KG
Friedrich-Schmidt-Str. 2
84478 Waldkraiburg
Germany
+49 8638 9810-0
info@​kraiburg-tpe.com
www.kraiburg-tpe.com
kraiburg-tpe/
channel/UCQKi_-RJ8sJqMNfyfAO8PVQ
---
Notes for editors
About KRAIBURG TPE
KRAIBURG TPE (www.kraiburg-tpe.com) is a global manufacturer of thermoplastic elastomers. From its beginning in 2001 as subsidiary of the historical KRAIBURG Group founded in 1947, KRAIBURG TPE has pioneered in TPE compounds, today being the competence leader in this industry. With production sites in Germany, the US, and Malaysia the company offers a broad range of compounds for applications in the automotive, industrial, consumer, and for the strictly regulated medical sectors. The established THERMOLAST®, COPEC®, HIPEX®, and For Tec E® product lines are processed by injection molding or extrusion and provide numerous processing and product design advantages to manufacturers. KRAIBURG TPE features innovative capabilities as well as true global customer orientation, customized product solutions and reliable service. The company is certified to ISO 50001 at its headquarters in Germany and holds ISO 9001 and ISO 14001 certifications at all global sites. In 2017, KRAIBURG TPE, with over 620 worldwide employees, generated sales of 178 million euros.