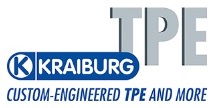 16 May 2018
Just Turn the Dial
FREELOCK Wire Closure System from Shin Kyung with Soft-Touch Dial Molding in THERMOLAST® K
KRAIBURG TPE announces that a unique new shoe lacing system developed by Shin Kyung Inc. (Korea) is manufactured using their innovative rotary dial, overmolded with THERMOLAST® K compound to provide both enhanced functionality and aesthetics.
Lacing and unlacing shoes can be a cumbersome task, especially for children and seniors. Moreover, with conventional shoe laces it can be time-consuming to adjust to the right level of tightness, which can be critical for both a comfortable fit and safety - particularly for demanding activities such as running and other sports. Shin Kyung's patented FREELOCK wire closure system eliminates these challenges with an innovative mechanism for tightening, securing and loosening laces by means of multiple wires contracted or released as needed by a simply twist of a rotary dial.
The dial of the FREELOCK system is based on a two-component design comprising a polycarbonate base overmolded with THERMOLAST K from KRAIBURG TPE. The thermoplastic elastomer (TPE) compound was selected for its ability to combine excellent processing characteristics with superior tensile strength and aesthetics. Key properties to be met included easy colorability in line with brand footwear shades, high flowability for short cycle times and uncompromising long-term adhesion to the polycarbonate in order to withstand the frequent turning and tension applied to the rotary dial across the lifetime of the shoe. In addition, the TPE offers excellent surface quality along with a pleasant soft-touch feel while retaining its firm grip.
Beyond the convincing property profile of the THERMOLAST material, KRAIBURG TPE went the extra mile to quite literally take on the challenges to succeed with the FREELOCK concept as their own. From selecting the right compound through to taking full advantage of its processing, design and end-use benefits, their expertise and support made a significant contribution to help the company optimize the closure system and speed up its time to market.
Apart from footwear, the FREELOCK system is also ideally suited to other applications requiring convenient, safe and adjustable tightening, such as gloves, bags or medical pouches.
KRAIBURG TPE showcased the FREELOCK wire closure system along with other successful customer applications, including the latest innovative TPEs for the automotive, consumer, electronics and packaging sectors at Chinaplas 2018.
Reader enquiries
KRAIBURG TPE GmbH & Co. KG
Friedrich-Schmidt-Str. 2
84478 Waldkraiburg
Germany
+49 8638 9810-0
info@​kraiburg-tpe.com
www.kraiburg-tpe.com
linkedin.com/company-beta/153790/
youtube.com/channel/UCQKi_-RJ8sJqMNfyfAO8PVQ
---
Notes for editors
About KRAIBURG TPE
KRAIBURG TPE (www.kraiburg-tpe.com) is a global manufacturer of thermoplastic elastomers. From its beginning in 2001 as subsidiary of the historical KRAIBURG Group founded in 1947, KRAIBURG TPE has pioneered in TPE compounds, today being the competence leader in this industry. With production sites in Germany, the US, and Malaysia the company offers a broad range of compounds for applications in the automotive, industrial, consumer, and for the strictly regulated medical sectors. The established THERMOLAST®, COPEC®, HIPEX®, and For Tec E® product lines are processed by injection molding or extrusion and provide numerous processing and product design advantages to manufacturers. KRAIBURG TPE features innovative capabilities as well as true global customer orientation, customized product solutions and reliable service. The company is certified to ISO 50001 at its headquarters in Germany as well as in Malaysia and holds ISO 9001 and ISO 14001 certifications at all global sites. In 2017, KRAIBURG TPE, with over 620 worldwide employees, generated sales of 178 million euros.
About Shin Kyung Inc.
Incorporated in 1999, Shin Kyung Inc. (Busan, Korea) has been developing functional yet innovative products to help improve the convenience of everyday products used around the globe. Under the company's 'FROM HEAD TO TOE' slogan, Shin Kyung aims to achieve an easier and more comfortable lifestyle for consumers everywhere. Initially introduced to easily secure shoelaces simply by turning a rotary dial, the FREELOCK wire closure system's product application has been expanded to many other daily use items, such as hats, bags, gloves and medical-support equipment.
Related images