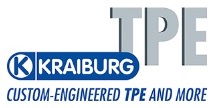 21 Feb 2018
KRAIBURG TPE to Exhibit at NPE 2018
KRAIBURG TPE, the global competence leader in thermoplastic elastomer compounds will be participating at NPE 2018, the National Plastics Exposition. This exhibition will be held on May 7-11, 2018 at the Orange County Convention center in Orlando, Florida. KRAIBURG TPE will be located at South Hall Booth S31181.
Custom-engineered TPE and more…
KRAIBURG TPE is a respected specialist in custom-engineered TPE solutions and provides local support to its customers in the form of a distinctive service bundle. The spectrum includes project-tailored advice on which engineered plastic compounds to use, including the color and application-specific requirements, processing recommendations, expert advice and unrivalled customer service. Local and global contact persons ensure a smooth customer management process with short delivery times. All materials are manufactured at production sites in Europe, the Asia-Pacific region and North America, according to the same certified quality standards: ISO 9001 & 14001.
On the basis of specific innovative applications, trade fair visitors can witness the convincing results of KRAIBURG TPE's customer-oriented strategy, which also includes target applications within the consumer, industry, automotive and medical markets.
Every three years, the NPE trade show provides the most visible and impactful event for the plastics industry throughout the Americas, according to Jeff Frankish, Managing Director for KRAIBURG TPE in the US. "NPE provides us with the best platform to showcase our expertise, technical capabilities and innovative solutions within the TPE sector. We welcome the opportunity to not only network with key OEMs and processors within the industry, but to also address the challenges presented by our customers and demonstrate the unique products, services and global supply options available through KRAIBURG TPE."
To guarantee reliable deliveries of its TPE compounds on a long-term basis, KRAIBURG TPE is excited to announce its production capacity expansions among its three manufacturing sites in Germany, the United States and Malaysia through the addition of new compounding lines.
In the United States, the newly-built Buford, GA plant went from 6,000 metrics tons to 10,000 metrics tons of capacity. The expansions of production capabilities follow KRAIBURG TPE's strategic approach to focus on its core competencies: acquiring success by offering strong customer orientation, influential material innovations and structuring themselves for continuous growth.
More Solutions for Automotive Exterior Applications
KRAIBURG TPE will present its EPDM – Adhesion series. This series is targeted towards automotive exterior components as a material solution for applications requiring high UV and weather resistance and optimal adhesion to rubber. With the AD/EPDM/UV series, customers benefit from low processing temperatures that guarantee short cycle times and do not interfere with the flock coating process. Further advantages include long-term process stability and ideal initial adhesion, which is needed for the ejection of parts. When exposed to heat or UV radiation, the EPDM – Adhesion series compounds do not exhibit any oil bleed-out or stickiness, and provide impressive color stability. Typical applications include corner molding, doorsills, glass run channels and window encapsulations.
Silky-smooth Compounds for Consumer Electronics
KRAIBURG TPE's newly launched range the VS/AD/HM series offers silky, satin-smooth surfaces that feature high scratch and abrasion resistance, excellent durability and resistance against chemicals such as sebum oil, creams and common household detergents. The series is designed for consumer electronics applications.
The VS/AD/HM series has been specially developed for applications that require a silky and velvety surface, along with excellent adhesion to polar thermoplastic compounds such as PC, ABS, PC/ABS, PU, ASA, SAN, PA12 and PA6. Available in natural color and black, the compounds also have impressive processing properties. Example applications include controllers for games consoles, remote controls and headphones, toys, protective covers for mobile phones, tablets and cosmetics packaging.
Highly-Transparent FDA Compounds with Optimal Flow
Among other innovations, KRAIBURG TPE will also showcase its FC/ht series. This series is the highly transparent material solution for applications such as seals in food packaging, tooth-brush handles, detergent pods and toys. The compounds are characterized by its excellent adhesion to PP as well as its high-flow processing behavior. The series offers a smooth, non-sticky feel and because of its high transparency, it is also ideal for applications requiring custom pigmentation or vibrant colors, a forte of KRAIBURG TPE.
Reader enquiries
KRAIBURG TPE GmbH & Co. KG
Friedrich-Schmidt-Str. 2
84478 Waldkraiburg
Germany
+49 8638 9810-0
info@​kraiburg-tpe.com
www.kraiburg-tpe.com
linkedin.com/company-beta/153790/
youtube.com/channel/UCQKi_-RJ8sJqMNfyfAO8PVQ
---
Notes for editors
About KRAIBURG TPE
KRAIBURG TPE (www.kraiburg-tpe.com) is a global manufacturer of thermoplastic elastomers. From its beginning in 2001 as subsidiary of the historical KRAIBURG Group founded in 1947, KRAIBURG TPE has pioneered in TPE compounds, today being the competence leader in this industry. With production sites in Germany, the US, and Malaysia the company offers a broad range of compounds for applications in the automotive, industrial, consumer, and for the strictly regulated medical sectors. The established THERMOLAST®, COPEC®, HIPEX®, and For Tec E® product lines are processed by injection molding or extrusion and provide numerous processing and product design advantages to manufacturers. KRAIBURG TPE features innovative capabilities as well as true global customer orientation, customized product solutions and reliable service. The company is certified to ISO 50001 at its headquarters in Germany as well as in Malaysia and holds ISO 9001 and ISO 14001 certifications at all global sites. In 2017, KRAIBURG TPE, with over 600 worldwide employees, generated sales of 178 million euros.
Related images
Also available in