14 Mar 2023
Lade GmbH and INEOS Styrolution: charging wallbox for e-mobility made with sustainable styrenics
Frankfurt and Mainz Germany, March 14, 2023 - Lade GmbH, a new German startup company dedicated to e-mobility and energy management, announced today that it has selected INEOS Styrolution's sustainable Luran® S ECO material for their line of charging wallboxes.
Founded only three years ago, Lade GmbH offers a broad portfolio of scalable e-mobility charging solutions for car park operators, companies, retail, buildings and real estate, municipalities, and public utilities. Recently recognised with the German Design Award Special 2023, the company's wallboxes will be based on INEOS Styrolution's Luran® S ECO 757G B40, a grade with 40% bio-attributed material. Luran S, an ASA[1] polymer features high surface quality, good impact strength, enhanced color fastness, and excellent chemical resistance. The product is ideal for outdoor use with superior performance when exposed to UV irradiation and heat. Processability is trouble-free due to the high flowability of the material.
Luran S ECO is made using renewable feedstock, based on a mass balance process certified by ISCC PLUS. Luran S ECO is currently available with a renewable content of up to 50%. This results in a carbon footprint reduction of up to 58% compared to fossil-based Luran S.
Lade GmbH's wallbox – LADEmini - is a compact, scalable and comprehensive AC charging system. It provides tailor-made charging solutions for various needs, from single-family homes to company fleets. LADEmini also offers future-proof features like load balancing, smart and sustainable charging, software backend and much more.
Dennis Schulmeyer, Founder and CEO of Lade GmbH, says: "INEOS Styrolution's line of ECO products goes hand in hand with our own vision. Luran S enables our sustainable application approach and offers superior aesthetic at the same time."
Stefan Roettel, Key Account Manager at INEOS Styrolution, adds: "We are proud to be working with a visionary company like Lade GmbH. I am particularly excited about the entrepreneurial spirit that drives the organization and commitment to furthering society's transformation to e-mobility."
[1] ASA: acrylonitrile styrene acrylate
Reader enquiries
INEOS Styrolution
INEOS Styrolution Group GmbH
Mainzer Landstraße 50
60325 Frankfurt am Main
Germany
---
Notes for editors
About INEOS Styrolution
INEOS Styrolution is the leading global styrenics supplier, with a focus on styrene monomer, polystyrene, ABS Standard and styrenic specialties. With world-class production facilities and more than 90 years of experience, INEOS Styrolution helps its customers succeed by offering solutions, designed to give them a competitive edge in their markets. At the same time, these innovative and sustainable best-in-class solutions help make the circular economy for styrenics a reality. The company provides styrenic applications for many everyday products across a broad range of industries, including automotive, electronics, household, construction, healthcare, packaging and toys/sports/leisure. In 2021, sales were at 6 billion euros. INEOS Styrolution employs approximately 3,100 people and operates 16 production sites in nine countries.
More information: www.ineos-styrolution.com
Follow us on Twitter (@styrolution).
About Lade GmbH
LADE GmbH develops and produces a scalable, fully integrated system for installing, operating and using charging infrastructure for e-cars. The solution combines smart charging hardware, sustainable energy management and AI-supported software for administration and use. The system enables significant cost advantages in installation and operation, efficient use of renewable energies as well as easy and convenient charging. All processes related to the operation of charging stations are digitised as far as possible. The company offers solutions for every use case in AC charging, from single-family homes to public charging parks with hundreds of charging points. With its innovative products, LADE utilises the potential of electric vehicles to support and accelerate the energy transition. The company was founded in 2020 by electrical engineer and IT entrepreneur Dennis Schulmeyer and is based in Mainz/Germany.
More information: www.lade.de
Related images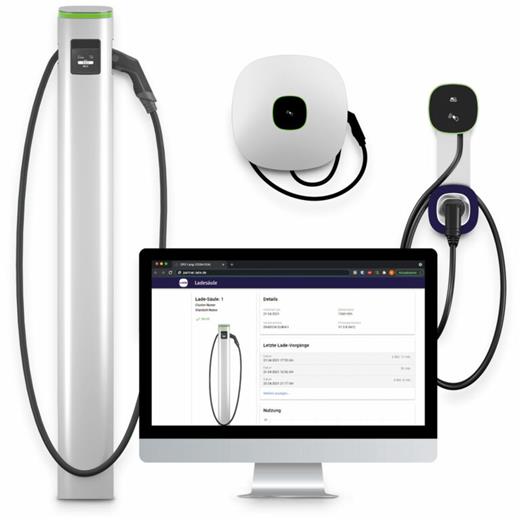 Editorial enquiries
Dr. Ralf Leinemann
INEOS Styrolution
ralf.leinemann@​styrolution.com
Kim Vermeer
EMG