5 Apr 2018
INEOS Styrolution introduces new carbon look composite StyLight® Aesthetic S C245-1
Innovation for automotive, electronics and sports & leisure
Higher area weight results in improved fibre alignment
New fibres improve stiffness and rigidity
As a new addition to its family of thermoplastic composites, INEOS Styrolution introduces the new carbon look composite StyLight Aesthetic S C245-1. The new material shows significant improvements over the previous StyLight Aesthetic S C200-1 providing application designers in the automotive and other industries with new opportunities.
The new StyLight Aesthetic S C245-1 provides a higher fibre density resulting in a higher area weight and ultimately in a better fibre alignment. This improvement will further enhance the surface aesthetics of the material, which has been developed to address lightweight aesthetic designs. The previous StyLight Aesthetic S C200-1 delivered a very good surface quality at an area weight of 200 g/cm2 at a thickness per layer of 0.25mm. The new StyLight Aesthetic S C245-1 goes beyond this de-facto industry standard offering an area weight of 245 g/cm2 at a thickness per layer of 0.3mm.
The new fibres used in StyLight Aesthetic S C245-1 improve the mechanical properties of the material. In particular, stiffness and rigidity are significantly enhanced compared to the previous StyLight Aesthetic S C200-1.
With these new characteristics, StyLight Aesthetic S C245-1 offers a surface quality that addresses the needs of the most demanding applications. Tests have shown that the new material meets respective technical tests of leading automotive brands and it can be expected that the new StyLight will be selected for a series of new automotive interior and exterior applications for cars of the next generation. Typical applications include interior decorative trims, seat components, rear-view mirror caps, and exterior trims.
The new material is also explored in the electronics industry and for sports and leisure applications. It becomes an attractive alternative when the search is on for a material offering a cool and sporty look. In the electronics industry, typical applications include mobile phone casings, loudspeaker cones and drones. For sports and leisure, examples include sport helmets, bicycle parts and luggage.
Pierre Juan, VP Future Business and Innovation at INEOS Styrolution, is optimistic about the success of the new material: "We are working very closely on dozens of projects with our customers in various industries. Their feedback is very encouraging and we received initial certifications of the material for selected applications. We also took a closer look at various processing technologies to support our customers optimising industrial production of their solutions."
Reader enquiries
INEOS Styrolution
INEOS Styrolution Group GmbH
Mainzer Landstraße 50
60325 Frankfurt am Main
Germany
globalinfo@​styrolution.com
www.ineos-styrolution.com
@Styrolution
linkedin.com/company/styrolution
http://www.youtube.com/StyrolutionGroup
---
Notes for editors
About INEOS Styrolution
INEOS Styrolution is the leading global styrenics supplier, with a focus on styrene monomer, polystyrene, ABS Standard and styrenic specialties. With world-class production facilities and more than 85 years of experience, INEOS Styrolution helps its customers succeed by offering the best possible solution, designed to give them a competitive edge in their markets. The company provides styrenic applications for many everyday products across a broad range of industries, including automotive, electronics, household, construction, healthcare, toys/sports/leisure, and packaging. In 2017, sales were at 5.3 billion euros. INEOS Styrolution employs approximately 3,300 people and operates 16 production sites in nine countries.
More information: www.ineos-styrolution.com
Follow us on Twitter (@styrolution).
Related links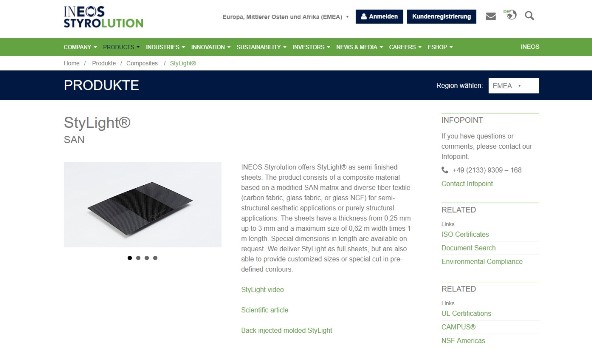 INEOS Styrolution offers StyLight® as semi-finished sheets. The product consists of a composite material based on a modified SAN matrix and diverse fiber textile (carbon fabric, glass fabric, or glass NCF) for semi-structural aesthetic applications or purely structural applications. The sheets have a thickness from 0,25 mm up to 3 mm and a maximum size of 0,62 m width times 1 m length. Special dimensions in length are available on request. We deliver StyLight as full sheets, but are also able to provide customized sizes or special cut in pre-defined contours.