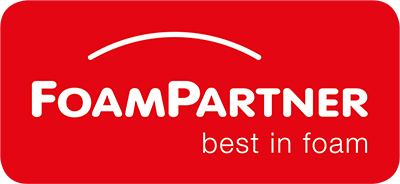 25 Jul 2019
FoamPartner receives 3M Service Award
FoamPartner Group succeeded in greatly increasing its supplier performance vis-à-vis 3M in 2018. The multi-tech conglomerate showed its appreciation by presenting its "Service Award 2018" to the global business unit "Specialties".
Leverkusen (Germany) / Wolfhausen (Switzerland) / Langenthal (Switzerland), June 2019. As a manufacturer, developer, and processor, the FoamPartner Group, headquartered in Wolfhausen (Canton of Zurich, Switzerland) supplies trade and industry worldwide with foams for a wide range of applications. For many years now, FoamPartner has been a strategic supplier for the US multi-tech corporation- 3M. FoamPartner also supplies its affiliate with more than 40 different polishing and interface pads for use in the automotive branch; some for the OEM, some for sales in the aftermarket trade.
In June 2019, after many years of successful collaboration, 3M presented the "Specialties" team of the FoamPartner site Leverkusen (North Rhine-Westphalia, Germany) its "Service Award 2018". Guido Schmitt (Head of Marketing & Sales Specialties Europe, FoamPartner) and his team were present at the awards ceremony on 27 June 2019 in the 3M EMEA Center of Excellence in Langenthal (Canton of Bern, Switzerland) to receive the prestigious prize. Schmitt was overjoyed, "This prize underpins the fruitful and trusting collaboration with 3M over the past years. In 2018 we gave further consideration to our service concepts and optimized our performance to a greater extent. We are very pleased that 3M has honored our team with this award."
In 2018 FoamPartner Group succeeded in significantly increasing its supplier performance vis-à-vis 3M within just a year. The SOTIF rate ("Supplier On Time In Full") was greatly improved. This was managed in close collaboration between 3M and the FoamPartner supply chain and production by means of additional optimization in scheduling, inventory management, forecasting, and in the expansion of safety stock. In 2018, the SOTIF rate increased overall to a successful 97%, and in April and May 2019 the rate had even reached a perfect 100%. "FoamPartner's Specialties Team really put the pedal to the metal in 2018, increasing once again its already outstanding supplier performance in key areas, which is why Leverkusen deserves the 'Service Award' in 2018," comments Marcus Rauch (Category Lead, Strategic Sourcing EMEA, 3M).
The "Service Award" is one of a total of eight awards that 3M presents annually. In addition to the service prize, there are also awards in the categories of packaging, logistics and innovation.
Reader enquiries
FoamPartner
Oberwolfhauserstrasse 9
CH-8633 Wolfhausen
Switzerland
---
Notes for editors
About FoamPartner Fritz Nauer AG
FoamPartner, with headquarters in Wolfhausen (Switzerland) and 14 Centers of Competence across Europe, America and Asia-Pacific, is a global leader in foam technology. The company offers its customers a broad portfolio of best-in-class foam and other material solutions engineered to the highest standards of form, function and quality. More than 1,100 employees worldwide develop, manufacture, process and distribute custom-tailored polyurethane foam products focused on three market segments: Mobility, Specialties, and Living & Care. FoamPartner was founded in 1937 and has been a member of the Conzzeta Group since 1980. Visit www.foampartner.com and www.conzzeta.com for further information.
About 3M
The multi-tech conglomerate 3M was founded in Minnesota, USA, in 1902 and today is among the most innovative corporations worldwide. 3M is represented in 200 countries with 93,000 employees. In 2018 the company achieved sales of USD 33 billion. The basis for its innovative strength is the diverse use of its own 46 technology platforms. Its portfolio comprises more than 55,000 different products covering almost every area of life. 3M holds more than 25,000 patents and makes around one third of its sales with products that have been on the market for less than five years. See www.3m.com and www.3mschweiz.ch for further information.
Related images
Also available in