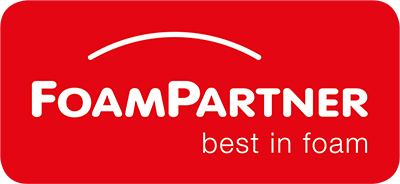 17 May 2019
Sleep Like a King – With the New EvoPoreVHRC
Those who want a bed fit for a king will find what they need at FoamPartner. The foam specialist has made a coup in the area of sleeping comfort with the EvoPoreVHRC. This new product on the premium comfort foams market offers an unprecedented sleeping experience that outshines the standard box-spring comfort on the market. EvoPoreVHRC sets completely new standards and is revolutionizing modern sleeping solutions.
While standard box-spring beds usually comprise three components, with EvoPoreVHRC you only need one mattress for the equivalent sleeping comfort. This is because the premium comfort foam combines all of the comfort components of a box-spring bed and, in addition, offers even higher point elasticity. It thus creates a sensationally new resting comfort with particularly good adaptability, excellent support, and outstanding climate regulation. The ultimate box-spring feeling is completely redefined by the EvoPoreVHRC – without springs and 100 percent metal-free.
Stays in Form
The comfort foam is a further development of the proven EvoPoreHRC foam and is very versatile. VHRC stands for very high resilience climate, and the name is fitting. Thanks to its first-class climate resistance, EvoPoreVHRC maintains its excellent stability and consistent support throughout the night and for many years. In contrast to conventional foams, there is no need to worry about a loss of hardness. Quite the contrary – in terms of material resistance, EvoPoreVHRC exceeds standard foams and latex by up to 40 percent, and thus once again proves that it is the king of premium comfort foams.
The Pinnacle of Sustainability
As the king of dreams, EvoPoreVHRC offers more than first-class sleeping comfort. It is also at the forefront when it comes to sustainability. In addition to having a much longer service life, 30 percent less material is used in the production of this foam in comparison to standard foams with the same product performance. The CO2 emissions are thus much lower when viewed across the entire product life cycle. EvoPoreVHRC therefore not only guarantees majestically good sleep thanks to superior comfort properties and durability, but also with a clear conscience.
Reader enquiries
FoamPartner
Oberwolfhauserstrasse 9
CH-8633 Wolfhausen
Switzerland
---
Notes for editors
About FoamPartner Fritz Nauer AG
FoamPartner, with headquarters in Wolfhausen (Switzerland) and 14 Centers of Competence across Europe, America and Asia-Pacific, is a global leader in foam technology. The company offers its customers a broad portfolio of best-in-class foam and other material solutions engineered to the highest standards of form, function and quality. More than 1,100 employees worldwide develop, manufacture, process and distribute custom-tailored polyurethane foam products focused on three market segments: Mobility, Specialties, and Living & Care. FoamPartner was founded in 1937 and has been a member of the Conzzeta Group since 1980. Visit www.foampartner.com and www.conzzeta.com for further information.
Related images
Also available in