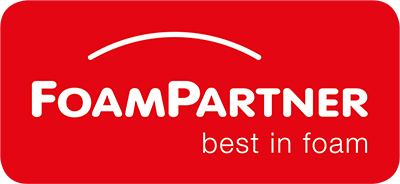 17 May 2019
Tecciō.science – Creating Exceptional Sleep
The patented, innovative sleep solution Tecciō.science is based on the advanced development of multi-dynamic foams combined with hardware and software. It influences sleep through individually selectable, dynamic hardness changes. Controlled by an app, changes are very smooth and are made continuously. This forms the basis for the sleeping experience of the future.
Today, the goal is to deliver maximum performance in every life situation, and to optimize your own performance. This often results in burn-out caused by stress. To prevent this, restorative sleep is of great value, if not indeed of paramount importance. The rise in the use of sleep trackers such as smart watches, sensors, or apps demonstrates that consumers are becoming more aware of this issue. In fact, the innovative Tecciō.science sleep solution takes that one step further. Instead of simply monitoring sleep, it optimizes it for you.
Comfort Foam and Digital Technology
The brand-new Tecciō.science sleeping system was developed jointly by Dow, FoamPartner, and Variowell Development. It unites the cumulative expertise of these companies on the subject of restorative sleep with a combination of multi-dynamic premium luxury foam materials and digital technology. The name for this intelligent sleeping solution is derived from the Japanese word Tekiō, which translates as "adaptation". Tecciō.science is designed to influence sleep in a positive manner to enhance regeneration and through that, to improve the quality of life of consumers.
Use of the Thermodynamic Properties to Modify Firmness Settings
Tecciō.science combines multi-dynamic foams and an electronic low-voltage control unit that is regulated by an app. This is connected to the mattress via Bluetooth. The thermodynamic properties of the foam materials make them ideal for changes in their firmness setting. The foam elements are installed directly in the mattress and are therefore a natural component of the sleeping system – there is no need for additional pumps or other moving parts. Externally, the Tecciō.science mattress is no different from conventional mattresses and it can be integrated into an existing bed system without any problem.
Innovative and Distinctively Individual
Tecciō.science lays the groundwork for a distinctively individual, innovative experience of sleep – one that goes far beyond the classic ergonomic properties of mattresses. This opens up entirely new possibilities for companies that make mattresses. The multi-dynamic elements are easy to install in the customer's own mattress, and can be combined with a huge variety of foam materials. The software can also be extended, and programmed in accordance with customer wishes. This means that mattresses can be developed further, simply through the use of software updates – this creates new digital business models.
With Tecciō.science, the Following Comfort-Related Wishes Can be Implemented:
Personal firmness settings, for example to obtain a soft sensation when lying down to fall asleep and when waking up, and a good firm setting during the night.
Time-related changes in firmness to influence sleeping patterns on working days and at the weekend: a softer setting at the weekend for relaxation and a firmer setting on working days to enable you to get up earlier.
Ergonomically appropriate firmness settings, dependent on your lying position.
Smart wake-up functionality:
Smart wake-up apps are very popular and wake people up when they are not in a deep sleep phase. However, this is frequently too early. The algorithms in a mattress equipped with Tecciō.science prevent consumers from being in a deep sleep at their preferred wake-up time.
Power-nap functionality.
Individual firmness settings for various different people, for example in hotels or guest rooms.
And a great deal more thanks to adaptable and extensible app software for smart sleeping solutions.
Dow Comfortscience Hall 11.1 Booth G-038-H-039
Foampartner Fritz Nauer AG Hall 11.1 Booth C-040
Reader enquiries
FoamPartner
Oberwolfhauserstrasse 9
CH-8633 Wolfhausen
Switzerland
+41 55 253 63 63
wolfhausen@​foampartner.com
www.foampartner.com
foampartner-group
---
Notes for editors
About FoamPartner Fritz Nauer AG
FoamPartner, with headquarters in Wolfhausen (Switzerland) and 14 Centers of Competence across Europe, America and Asia-Pacific, is a global leader in foam technology. The company offers its customers a broad portfolio of best-in-class foam and other material solutions engineered to the highest standards of form, function and quality. More than 1,100 employees worldwide develop, manufacture, process and distribute custom-tailored polyurethane foam products focused on three market segments: Mobility, Specialties, and Living & Care. FoamPartner was founded in 1937 and has been a member of the Conzzeta Group since 1980. Visit www.foampartner.com and www.conzzeta.com for further information.
Related images
Also available in