22 Jan 2019
EMG hosts Additive Manufacturing Forum in Shanghai at world's first 3D printing museum
Event draws together diverse group of participants to present and discuss the latest developments in 3D printing reshaping the future of manufacturing industry
Shanghai, China, January 22, 2019 – EMG, the leading international B2B and industrial communications specialist, successfully completed its first 3D Additive Manufacturing forum in Shanghai on January 18, 2019. The event drew together over 30 speakers and delegates from industry, academia and media, and was jointly organized by EMG, Chuang Ke Jia Technology, the official name of the world's very first and only dedicated 3D printing museum located in Shanghai, and Nanjixiong.com, China's leading media outlet focused on 3D printing/additive manufacturing.
Highlights from the event involved keynote presentations from resin and equipment makers, providing a platform for discussion and idea-exchange for local Chinese and international companies, industrial experts, research and academic institutions and key media outlets on the latest news and developments in the field.
EMG's International Director John Gallagher, 3D Printing Cultural Museum Curator Ms. Julie Zhu, and Nanjixiong.com Chief Editor Mr. Pan Jinsong were the official co-hosts and delivered welcome speeches to the audience of over 30. Other key speakers included: Yao Zhijian, Key Account Manager from HP; David McCann, Senior Business Architect from Clariant; Cai Wanquan, Director of Operations from Aurora; and Tang Luji, technical Director Industrial Design at Qiaoliang.
In recent years, Additive Manufacturing (known as "3D printing") has made impressive progress in the areas of equipment, material, technology and application. China is at the heart of this development and the potential for growth is substantial. Statistics show that China's 3D printing market was estimated at RMB 8.2 billion in 2017, but the fast growth and demand has raised a few challenges. Failure to find suitable opportunities for industrialization, the lack of talent in the industry and the high cost of 3D printing have now become the main development bottlenecks for current China's 3D printing market.
John Gallagher, EMG China said, "As a world-leading B2B marketing and communication agency, we have many clients in the resins, additives and equipment fields focused on 3D printing. We are extremely proud and honoured to organise this forum to provide a professional platform for leading 3D printing enterprises, industrial experts and leading media here in China where they can share the latest trends and insights, exchange ideas and encourage more innovation and growth. This event also provides a timely build up to the TCT Asia exhibition, which will be held in Shanghai from February 21-23 where EMG will be present supporting a number of our clients."
Ms. Julie Zhu, Curator of China 3D Printing Cultural Museum said, "The China 3D Printing Cultural Museum, 3D Printing Start-up Space and 3D Printing Research Center was established to create an eco-system and promote industrial development. With this forum held in Wisdom Bay today, we hope to connect every industrial innovator and trailblazer. At the beginning of the New Year, we gathered with industry experts from many well-known enterprises to deep dive into the global development trend of 3D printing and share the successful cases of 3D printing industry. The forum has been a great success. It has helped promote the establishment of 3D printing ecosystem and lead the Industry 4.0 era."
David McCann, Senior Business Architect from Clariant commented: "Clariant has recently entered into the 3D printing industry underpinned by its global resources and knowledge of specialty chemicals and resin materials. Clariant provides high quality materials and professional services to the 3D industry here in China and around the world. Thank you EMG for providing this great platform and hope we can have more opportunities to cooperate with enterprises in the 3D industry chain in the future."
James Yao, Key Account Manager at HP commented: "We are very glad to have this opportunity to introduce our HP digital transformation to the 3D industrial players. I hope EMG will hold more events like this in the future so we can continue to communicate and interact with many upstream and downstream enterprises to help drive the 3D industrial development."
Mr. Pan Xuesong, chief editor of Nanjixiong said: "China's 3D industry is constantly changing. Companies need to always pay attention to the overall changes and adjust their development strategy accordingly. In 2018, all the 3D printing enterprises in the world received more than RMB 20 billion of investment which is more than double the amount in 2017. In the economic winter, the 3D printing industry has been continuously recognized by the capital. It has passed the hype period and has entered a solid stage of development. We are optimistic about the future of the 3D printing industry."
Julie Jhu, 3D Printing Cultural Museum curator, commented: "The forum was very successfully organized. It gathered a diverse mix of people involved in the 3D printing industry and generated lots of discussion and networking. Everyone was very pleased with the event."
In addition to the discussions by leading 3D industry experts, the forum involved a brief tour of the 3D Printing Cultural Museum followed by a visit to the world's longest 3D footbridge, located next to the museum.
Reader enquiries
EMG
Lelyweg 6
4612 PS Bergen op Zoom
Netherlands
---
Notes for editors
About EMG
EMG is an independent, privately-owned marketing services agency. We offer content marketing, integrated communications and influencer relations for industrial technology companies. Founded in 1991, we operate globally from our offices in the Netherlands and China. Our 50-strong team brings unparalleled experience working across multiple industry sectors and offers in-depth knowledge of communications channels in automation, chemicals, construction, energy, healthcare, packaging, plastics, processing, transportation and technology markets.
For more information, please visit www.emg-pr.com or follow us on Twitter, LinkedIn, Facebook and Google+.
Related images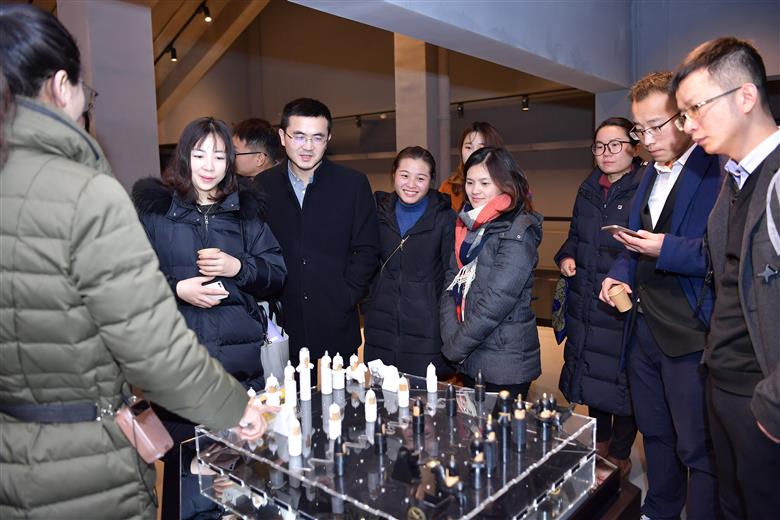 Editorial enquiries
John Gallagher
EMG