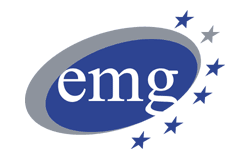 5 Nov 2013
EMG's Steps for Schools campaign raises €7,500 for a school in Sierra Leone
240 people from 21 countries participate to get fit and help build a school
Bergen op Zoom, November 5, 2013 - EMG, the leading international, industrial communications company, today celebrated the end of its Steps for Schools campaign raised €7,500.00 euros ($10,200.00) for the Gbumbeh Primary School.
EMG issued a global challenge to get fit and raise money to support Schools for Salone, a non-profit organization dedicated to transforming lives by building Schools in Sierra Leone. The campaign, which ran for 31 days (September 20th – October 21st), was designed to promote an active lifestyle, and to raise funds and awareness for Schools for Salone - specifically to give the fundraising effort for the Gbumbeh Primary School a strong start.
"We're very pleased with the results of the campaign. Two hundred and forty (240) people registered from 21 countries – from right across Europe to North America, China, India and Brazil. Our team reached out to their network of customers, friends and family and they responded," said Brigitta de Vries, Partner and Account Director, EMG. "We watched people really make an effort to take 7,500 steps per day to reach the campaign target of 230,000 in 31 days! Helping to build a school was a strong motivator."
"We are so pleased with EMG's Steps for Schools campaign. Not only did it raise significant funds towards the total needed to build the Gbumbeh Primary School, it helped to create awareness, which is vital to our ongoing efforts to build and sustain schools in Sierra Leone," says Cindy Nofziger, Executive Director, Schools for Salone. "Gbumbeh is a very poor village, and this campaign has given them hope. Our goal now is to continue the fundraising so we can turn hopes into a school."
Schools for Salone and the Gbumbeh Primary School
Schools for Salone is a non-profit organization that partners with local villages in Sierra Leone, West Africa, to rebuild the schools devastated in the ten-year civil war that ended in 2002. Since 2005, Schools for Salone has built 15 schools, and 2 libraries. The Gbumbeh Primary School is one of the schools waiting to be built. It is located in the Selenga Chiefdom about 14 miles from Bo, the second largest city in Sierra Leone. The village has a population of about 1,000 people and children from two nearby villages also attend the school, which is a one room mud hut with a tin roof. The overcrowded classroom makes teaching and learning difficult.
The approximate cost to build a school is €40,000.00 ($55,000.00).
Watch the video from Gbumbeh Village Chief, Swari Sandi.
Watch the video from Schools for Salone Board President, Mr. Don Mooers Jr.
Reader enquiries
EMG
Lelyweg 6
4612 PS Bergen op Zoom
Netherlands
+31 164 317 000
emg@​emg-pr.com
www.emg-pr.com
@EMGpr
linkedin.com/company/emg-pr
facebook.com/emg.pr
---
Notes for editors

About EMG
EMG is a leading international marketing communications & media relations consultancy with a strong industrial B2B focus. With a mission to deliver effective business communications for its clients primarily in the materials, building & construction, chemicals, packaging, technology, energy and life sciences markets, EMG has built its business on developing integrated marketing communications programmes for international organisations. EMG was founded in 1991 and has offices in The Netherlands, China and Singapore. EMG provides international communications support to clients that include Belden, Clariant, DSM, GE, Moog and Avery Dennison.
EMG is the founding partner of the Eurocom Worldwide global alliance and of EMG Asiacom, the regional network of B2B specialist agencies which provides local PR and communications expertise for key markets including China, Singapore, India, Japan, Korea and Australia.
For more information, please visit www.emg-pr.com or follow us on Twitter, LinkedIn, Facebook and Google+.
Related images
Editorial enquiries
Brigitta de Vries
EMG
+31 164 317 020
bdevries@​emg-pr.com
@bdevries
brigittadevries
Also available in