6 Oct 2020
ELIX Polymers publishes its 2019 Sustainability Report
ELIX integrates the Sustainability Development Goals (SDGs) in its business strategy
In 2019, the company reduced its emissions of greenhouse gases (GHGs) by nearly 10%
This report on fiscal year 2019 is based on the GRI (Global Reporting Initiative) Standards Guide
Tarragona, October 6, 2020 - ELIX Polymers is a leading producer specialised in thermoplastic materials, and since 2016, the year when it issued its first sustainability report, ELIX has been continuously strengthening its commitment to transparency and its defence of a growth model that is sustainable and environmentally friendly.
Continuing with this commitment, for the fourth consecutive year ELIX is presenting its 2019 sustainability report, which reflects all the advances achieved and the challenges that have been met over the last year, in line with the Sustainability Development Goals (SDGs) established by the United Nations.
For ELIX, 2019 represented the beginning of a new stage of consolidation and growth as a member of the Sinochem Group, during which it increased its presence in the NAFTA and APAC markets as a benchmark provider of ABS solutions.
David Castañeda, CEO of ELIX Polymers, had this to say: "On the occasion of presenting this report, I'd like to take the opportunity to mention the lines and principles based on which ELIX Polymers is developing its sustainability strategy for the 2030 horizon, which include enhancing the transition towards the circular economy, reducing our ecological footprint, adopting ethical values and committing to the development of human capital".
"Only through cooperation between the various players in the value chain can the transition to a circular economy model be accelerated, according to which waste is converted into raw materials and an urgent response is given to reducing the impact on the environment due to the use of plastics in our society. We will therefore include our stakeholders as participants in our goals, and we will establish partnerships as a part of our sustainability programmes, focused on the following: developing a portfolio of more sustainable solutions; driving responsible innovation; and caring for the climate (reduction of GHGs), the supply chain, responsible operations, ethics and people development", Castañeda added.
ELIX has continued to advance on reducing its environmental impact by investing in projects that have allowed it to reach nearly a 10% reduction in its GHG emissions. Moreover, its desire to improve year after year has led ELIX to being recognised with several awards, including the Best Polymer Producers Awards for Europe 2020, which was earned for the third consecutive year and distinguishes the best ABS manufacturer of the year. ELIX also earned renewal of the EcoVadis certificate at the GOLD level, thereby placing ELIX among the top 2% of evaluated companies with the best score and reaffirming its commitment to sustainable growth.
Judith Banús, Head of the company's Corporate Social Responsibility Programme, commented: "During 2019 we've worked based on the four cornerstones of the Corporate Social Responsibility policy defined in 2018, thereby incorporating sustainability at the company and throughout the value chain, which allows us to improve the environment, our human team and our community and consequently contribute to the commitments defined by ELIX in the Management by Missions project".
Furthermore, Banús wanted to make special mention of the Sustainable Development Goals: "The SDGs will guide ELIX's new strategy of sustainability, to which we will give the green light in 2020. At the end of 2019, in a participatory meeting with key persons of the organisation, we internally identified those SDGs regarding which ELIX, because of its impact, has the special ability or responsibility to contribute to their improvement".
You can discover ELIX's 2019 Sustainability Report in the sustainability section of its web page, which, through specific results, describes ELIX's performance in the implementation of good practices and consolidates its commitment to corporate social responsibility and sustainability.
The GRI Standards Guide, the world's primary benchmark for reporting, were taken into account in preparing this Report.
Reader enquiries
ELIX Polymers
Polígono Industrial - Crta. Vila-seca-La Pineda s/n
43110 La Canonja (Tarragona)
Spain
---
Notes for editors
ELIX Polymers - ELIX Polymers, a member of Sinochem, is a leading manufacturer of ABS (Acrylonitrile-Butadiene-Styrene) resins and derivatives in Europe.
Operating from its head office in Tarragona, Spain, and with Sales support teams in all key markets, the company is a specialist provider of tailor-made solutions for high quality thermoplastics applications. With a 40-year track record, ELIX Polymers is an expert in ABS polymers, and it has the resources, the expertise and the experience to create value for its customers through highly individual solutions.
ELIX Polymers offers a broad range of material solutions for a variety of industries and applications, meeting the stringent requirements of the Healthcare, Automotive, Appliances, Electronic, Toys and other industries.
For more information please visit www.elix-polymers.com.
As per corporate identity, ELIX is written in capitals. Would you be so kind as to use this way of writing when publishing this story? Many thanks.
Related images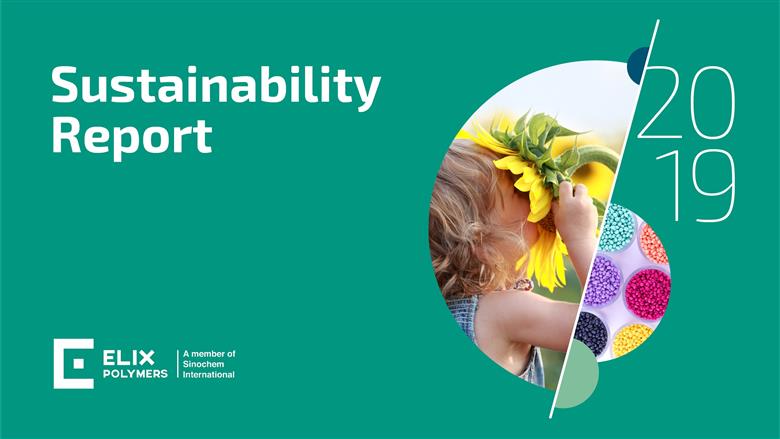 Also available in