22 Jun 2020
Miele selects high-flow ABS grade ELIX 118HF for its new battery-powered vacuum cleaner model Triflex HX 1
Tarragona, June 22, 2020 - High-end domestic appliance producer Miele & Cie. KG (Miele) has selected ELIX Polymers' high-flow ABS grade 118HF for its new battery-powered vacuum cleaner model, the Triflex HX1. ELIX Polymers developed the grade specifically for the application, with improved rheological properties that enable a reduction of wall thickness of the vacuum cleaner housing parts. ELIX Polymers, headquartered in Tarragona, Spain, is a leading manufacturer of ABS (Acrylonitrile-Butadiene-Styrene) resins and derivatives.
Miele chose ABS grade 118HF - coloured in customized grey, red and white - because it meets the company's key property requirements: high flowability, dimensional stability, good heat resistance and high surface gloss. The thinwalling capabilities of the grade translate into cost savings for Miele in terms of material consumption and reduced cycle times, leading to higher productivity.
"We are very pleased to work with such an innovative producer of high-end products like Miele," commented Joachim Kroeger, Regional Sales Manager of ELIX Polymers. "Faithful to Miele's creed - always better - ELIX modified the formulation and improved the rheological properties in order to provide the best possible solution for the new product."
When designing and developing the innovative and multi-functional Triflex HX1 battery-powered vacuum cleaner, Miele's objective was to create a product with long battery life as powerful as a conventional vacuum cleaner. When selecting a material suitable for the housing parts of the handheld device, the main focus was on minimizing the wall thickness in order to save part weight. "Beside mould filling properties, material selection was also based on mechanical properties such as strength and stiffness as well as part performance and part aesthetics", said Miele's materials and process development specialist.
ELIX Polymers has for many years been a leading development partner and preferred supplier of high-performance engineering thermoplastics used for many household appliances in Miele's product portfolio. "We have an excellent supplier relationship with ELIX Polymers and consider it as a very valuable and reliable supplier as well as a development partner for demanding technical projects," said Miele's head of strategic purchasing.
Reader enquiries
ELIX Polymers
Polígono Industrial - Crta. Vila-seca-La Pineda s/n
43110 La Canonja (Tarragona)
Spain
---
Notes for editors
ELIX Polymers - ELIX Polymers, a member of Sinochem, is a leading manufacturer of ABS (Acrylonitrile-Butadiene-Styrene) resins and derivatives in Europe.
Operating from its head office in Tarragona, Spain, and with Sales support teams in all key markets, the company is a specialist provider of tailor-made solutions for high quality thermoplastics applications. With a 40-year track record, ELIX Polymers is an expert in ABS polymers, and it has the resources, the expertise and the experience to create value for its customers through highly individual solutions.
ELIX Polymers offers a broad range of material solutions for a variety of industries and applications, meeting the stringent requirements of the Healthcare, Automotive, Appliances, Electronic, Toys and other industries.
For more information please visit www.elix-polymers.com.
As per corporate identity, ELIX is written in capitals. Would you be so kind as to use this way of writing when publishing this story? Many thanks.
Miele is the world's leading manufacturer of premium domestic appliances including cooking, baking and steam-cooking appliances, refrigeration products, coffee makers, dishwashers and laundry and floor care products. This line-up is augmented by dishwashers, washing machines and tumble dryers for commercial use as well as washer-disinfectors and sterilisers for use in medical and laboratory applications (Miele Professional).
The Miele company, founded in 1899, has eight production plants in Germany as well as one plant each in Austria, the Czech Republic, China, Romania and Poland. These are joined by the two plants belonging to Miele's Italian medical technology subsidiary Steelco. Turnover in the 2018/19 business year was around € 4.16 bn, with a share of business outside Germany of approx. 71%.
Miele is represented with its own sales subsidiaries and via importers in almost 100 countries. Throughout the world, the family-run enterprise, now in its fourth generation, employs a workforce of around 20,500, whereof 11,050 are employed in Germany. The company has its headquarters in Gütersloh in Westphalia.
Related images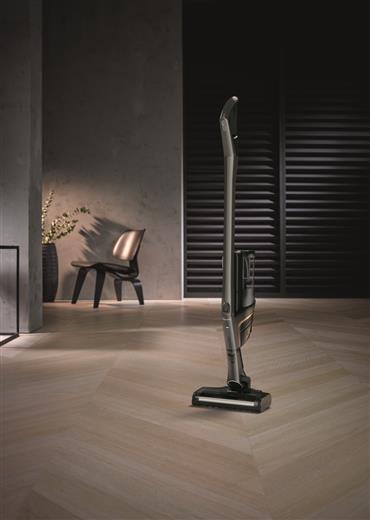 Also available in