3 Sep 2019
ELIX Polymers publishes its 2018 Sustainability Report
The company has successfully overcome new challenges in sustainability and innovation, thanks to its responsible financial management.
This report on fiscal year 2018 is based on the GRI (Global Reporting Initiative) Standards Guide
Tarragona, September 03, 2019 – ELIX Polymers, the leading specialist in the production of thermoplastics, expresses its corporate commitment to sustainability and focus on transparency through the publication of its 2018 Sustainability Report.
This report, which sets out all the advances and challenges accomplished by ELIX last year, also describes the company's annual progress in accordance with the Sustainable Development Goals (SDG) established by the United Nations, as a member of the Global Compact.
David Castañeda, CEO of ELIX Polymers, made the following statement: "I want to take advantage of our sustainability report presentation to share the challenges we are currently facing as an operator in the market sector in which ELIX Polymers participates. Plastics have unique properties whose benefits have contributed to the development and progress of our society. Nonetheless, their incorrect management is generating negative and undesirable effects on the environment. For this reason, and as a company that operates in the chemical sector, we are progressing towards a circular economy through the sustainable management of natural resources, the supply chain and the waste we generate".
"We are well aware of our commitment to sustainability, and so we have considerably increased our investment effort to improve and reduce the impact of our processes by allocating approximately 2 million Euros to environmental protection in 2018. We have also managed to increase our efficiency in the use of natural resources; for example, by reducing our greenhouse gas emissions (GHG), which are responsible for climate change, by 10.26%", said Castañeda.
ELIX continues to put its faith in the development of more sustainable products, demonstrating this strategic commitment through the implementation of projects that give rise to more sustainable solutions for current applications. One example is the development of new materials, some based on non-renewable but more sustainable raw materials and others based on totally renewable raw materials.
All these efforts have led to ELIX Polymers receiving several awards such as the Best Polymer Producers Awards for Europe in 2017 and 2018, which distinguishes the best ABS manufacturer of the year; the double award in the Climate and Export categories of the prestigious FEIQUE Chemical Sector CSR Awards, and the APPORT Award in the Innovation and Enterprise category awarded by the Tarragona Port Promotion Group (Spain).
Judith Banus, Head of the company's Corporate Social Responsibility Programme, commented: "In 2018 we redefined the goals that establish the strategic lines of the operative effort of ELIX, which are built on the following four pillars: Customer satisfaction, Professional growth for employees, Sustainable business operations and Responsible economic management. We act transversally on these pillars, using criteria based on ethics and transparency in all the relations we establish, both within the organisation and with our different stakeholders".
Another important milestone in the history of ELIX Polymers during the past year was the agreement to sell the company signed by SUN Capital Partners and Sinochem International, a member of the Sinochem Group, which resulted in the sale of the company in January 2019. In this respect, David Castañeda commented: "This step is the culmination of a successful period for our company, in which, with the support of Sun Capital Partners, ELIX has developed and become consolidated as a leader in its markets. During this new stage of our history, we will rise to new challenges, assisted by Sinochem International, with new opportunities for growth and access to new markets".
He ended by saying: "I invite you to explore our 2018 Sustainability Report, which demonstrates through specific results, our performance in the implementation of good practices and consolidates our commitment to corporate social responsibility and sustainability".
The Global Reporting Initiative (GRI) Standards, the world's primary reference standards for this type of report, were taken into account in preparing this Report.
The ELIX Polymers 2018 Sustainability Report is posted on the corporate website www.elix-polymers.com/sustainability
Reader enquiries
ELIX Polymers
Polígono Industrial - Crta. Vila-seca-La Pineda s/n
43110 La Canonja (Tarragona)
Spain
---
Notes for editors
ELIX Polymers - ELIX Polymers is a leading manufacturer of ABS (Acrylonitrile-Butadiene-Styrene) resins and derivatives in Europe.
Operating from its head office in Tarragona, Spain, and with Sales support teams in all key markets, the company is a specialist provider of tailor-made solutions for high quality thermoplastics applications. With a 40-year track record, ELIX Polymers is an expert in ABS polymers, and it has the resources, the expertise and the experience to create value for its customers through highly individual solutions.
ELIX Polymers offers a broad range of material solutions for a variety of industries and applications, meeting the stringent requirements of the Healthcare, Automotive, Appliances, Electronic, Toys and other industries.
For more information please visit www.elix-polymers.com.
As per corporate identity, ELIX is written in capitals. Would you be so kind as to use this way of writing when publishing this story? Many thanks.
Related images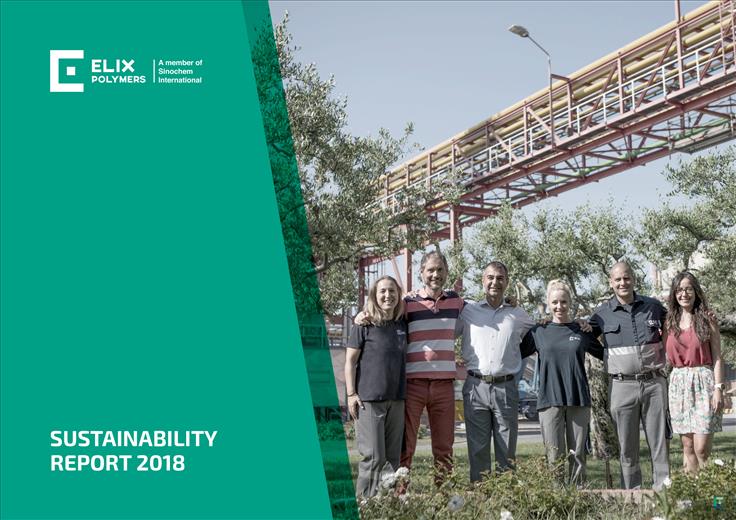 Also available in