25 Oct 2017
ELIX Polymers makes its debut at the Plastimagen 2017 trade show
Tarragona, October 25, 2017 – ELIX Polymers Americas, a leading manufacturer of ABS resins and derivatives, will present its portfolio of materials and technologies at Plastimagen 2017, one of the most important trade shows in the plastics sector, which will be held in Mexico from November 7th to 10th at the Banamex center in Mexico city.
At this international trade show, ELIX Polymers will present its portfolio of products and innovations in materials for several key markets. These innovations are the result of the company's major emphasis on product differentiation and its significant investments in R&D, thereby allowing it to stand out among manufacturers of basic ABS products.
The following are among the products that will be presented at Plastimagen:
ABS grades with a very low level of emissions and odor, and high-temperature ABS for the automotive industry.
A new generation of ABS grades for chroming, which will reinforce the company's pioneering position in this market.
Food grades for applications that require a high level of support and knowledge of regulations.
The new development of low-friction products for applications in the automotive industry.
In addition to being an excellent manufacturer for major customers throughout the world, ELIX Polymers Americas is a specialist in the production of ABS and SAN polymers, high-performance compounds, and polymer mixtures, as well as polymer modifiers.
With its factory and central office located in the largest industrial complex in Tarragona, Spain, and with an office in Florida, USA, ELIX Polymers Americas manages the third-largest ABS production plant in Europe, where it has five lines of ABS compounds that produce over 40 grades, specializing in the supply of pre-colored products with over 300 active colors.
Reader Enquiries
ELIX Polymers
Polígono Industrial - Crta. Vila-seca-La Pineda s/n
43110 La Canonja (Tarragona)
Spain
+34 977 83 54 00
info@​elix-polymers.com
www.elix-polymers.com
@ELIXPolymers
linkedin.com/company/elix-polymers
youtube.com/channel/UC58zsdlRxKUe58w3Dgtuvww
---
Notes for Editors

ELIX Polymers Americas - ELIX Polymers Americas is a subsidiary company in America of ELIX Polymers. ELIX Polymers is a leading manufacturer of ABS (Acrylonitrile-Butadiene-Styrene) resins and derivatives in Europe.
Operating from its head office in Tarragona, Spain, and with Sales support teams in all key markets, the company is a specialist provider of tailor-made solutions for high quality thermoplastics applications. With a 40-year track record, ELIX Polymers is an expert in ABS polymers, and it has the resources, the expertise and the experience to create value for its customers through highly individual solutions.
ELIX Polymers offers a broad range of material solutions for a variety of industries and applications, meeting the stringent requirements of the Healthcare, Automotive, Appliances, Electronic, Toys and other industries.
For more information please visit www.elix-polymers.com.
As per corporate identity, ELIX is written in capitals. Would you be so kind as to use this way of writing when publishing this story? Many thanks.
Related images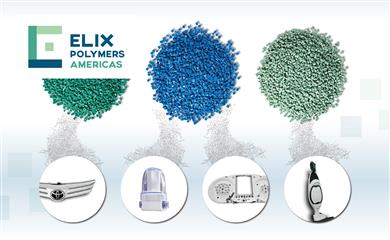 Also available in