19 Oct 2017
ELIX Polymers publishes 2016 Sustainability Report
The company shows its commitment to environmental sustainability and management based on the values of integrity, transparency, and ethics
The report covering the 2016 financial year follows the standards of the Global Reporting Initiative (GRI)
Tarragona, October 19, 2017 – ELIX Polymers, a leading European manufacturer of ABS resins and derivatives, has published its first Sustainability Report. The report provides stakeholders with an in-depth understanding of the company's commitment to transparency, in addition to information related to the impact on sustainability caused by its business activities during the 2016 financial year.
The report covers issues related to sustainable management in environmental, social, and economic areas, as well as ELIX Polymers' relationships with stakeholders. It shows how management at ELIX Polymers strives to create added value according to the interests of customers, shareholders, the community, the company's own employees, and others. Management guidelines related to sustainability are based on the circular economy, waste-minimization strategies, and the responsible consumption of energy and natural resources.
Wolfgang Doering, CEO of ELIX Polymers, when presenting the 2016 sustainability report, said: "As a company in the chemicals industry, we have a particular responsibility towards our stakeholders and society as a whole. With this report, we want everyone to gain a better understanding of how ELIX Polymers is living up to its responsibility towards the environment."
He continued by stating: "Since ELIX Polymers became an independent company in 2012, it has promoted various initiatives to strengthen its commitment to environmental sustainability, therefore basing its management on the values of integrity, transparency, and ethics. One of the many examples is our investment in research to develop products that are more sustainable, whether during the manufacturing process or in use."
ELIX Polymers has recently renewed its Responsible Care certification. This certification is the chemical industry's first worldwide voluntary initiative for promoting corporate social responsibility and commitment to the principles of sustainable development. ELIX Polymers also holds ISO 14001, ISO 50001, and ISO 9001 certificates for environmental management, energy management, and quality management, respectively. It was one of the first chemical companies in Spain to obtain ISO 50001 certification for energy efficiency.
Judith Banus, head of the company's Corporate Social Responsibility Program, stated: "Sustainability is an essential part of our company, and the circular economy is an important opportunity to explore the integration of environmental management, such as recycling plastic or managing waste created during the production process. But we also see safety as a fundamental part of sustainability. Our people are the cornerstone of our company's mission, which is why we support the implementation of healthy company strategies. We are going beyond basic health protection and now promote comprehensive health, which isn't merely limited to the workday."
"We are introducing a new safety culture into our operations", Judith continued. "Last year, we initiated our Company-based Safety project, which has the ambitious aim of creating a risk-free workplace. It encourages the participation of all employees, led by the line managers, to create an environment where they can perform optimally and safely."
The ELIX Polymers 2016 Sustainability Report was drafted according the standards of the Global Reporting Initiative (GRI), the benchmark for this type of non-financial document. Likewise, AccountAbility standard AA1000SES was taken into account when defining the relevant topics that should be reported.
The ELIX Polymers 2016 Sustainability Report is available at the company's website:
www.elix-polymers.com/sustainability.
Reader Enquiries
ELIX Polymers
Polígono Industrial - Crta. Vila-seca-La Pineda s/n
43110 La Canonja (Tarragona)
Spain
+34 977 83 54 00
info@​elix-polymers.com
www.elix-polymers.com
@ELIXPolymers
elix-polymers
channel/UC58zsdlRxKUe58w3Dgtuvww
---
Notes for Editors

ELIX Polymers Americas - ELIX Polymers Americas is a subsidiary company in America of ELIX Polymers. ELIX Polymers is a leading manufacturer of ABS (Acrylonitrile-Butadiene-Styrene) resins and derivatives in Europe.
Operating from its head office in Tarragona, Spain, and with Sales support teams in all key markets, the company is a specialist provider of tailor-made solutions for high quality thermoplastics applications. With a 40-year track record, ELIX Polymers is an expert in ABS polymers, and it has the resources, the expertise and the experience to create value for its customers through highly individual solutions.
ELIX Polymers offers a broad range of material solutions for a variety of industries and applications, meeting the stringent requirements of the Healthcare, Automotive, Appliances, Electronic, Toys and other industries.
For more information please visit www.elix-polymers.com.
As per corporate identity, ELIX is written in capitals. Would you be so kind as to use this way of writing when publishing this story? Many thanks.
Related images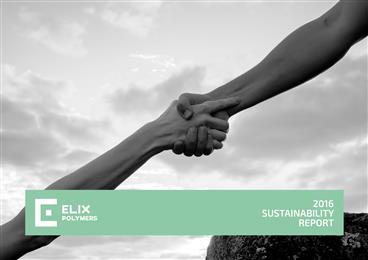 Also available in