3 Apr 2017
ELIX Polymers awarded GOLD EcoVadis rating for its approach to Corporate Social Responsibility
Tarragona, April 3, 2017 – Chemical company ELIX Polymers has achieved GOLD level recognition in corporate social responsibility (CSR) awarded by EcoVadis, an agency that specializes in sustainable development and performance monitoring.
This is currently the highest possible rating, awarded only after an extensive evaluation by EcoVadis. This is based on 21 criteria, many of which follow international CSR standards such as the UN's Global Compact, International Labour Organisation, Global Reporting Initiative and ISO 26000.
The overall result achieved by ELIX Polymers places the company in the top 5% of companies in its sector, as evaluated by EcoVadis. This evaluation consists of 4 different qualifications, which rate milestones and company development in relation to the environment, human rights, fair business practices and supply chain, reflecting company performance in CSR.
David Castañeda, Director of Operations at ELIX Polymers said: "This is an important recognition as it rewards our commitment and effort aligned with our long established social responsibility policy." Furthermore, Judith Banus, in charge of the Social Responsibility Program at ELIX, added: "We've achieved an extremely high rating in environment and human rights in work practices, which makes us proud and motivated to carry on the strategy of sustainable management."
EcoVadis was founded with the belief that global businesses can make a huge positive impact through their supply chains in improving environmental and social practices globally. EcoVadis has developed a CSR assessment methodology that is trustworthy, global and easy-to-use, and which is used to manage risk and promote eco-innovation covering 150 purchasing categories and 20,000 providers in 99 countries.
Reader enquiries
ELIX Polymers
Polígono Industrial - Crta. Vila-seca-La Pineda s/n
43110 La Canonja (Tarragona)
Spain
+34 977 83 54 00
info@​elix-polymers.com
www.elix-polymers.com
@ELIXPolymers
linkedin.com/company/elix-polymers
youtube.com/channel/UC58zsdlRxKUe58w3Dgtuvww
---
Notes for editors

ELIX Polymers - ELIX Polymers is a leading manufacturer of ABS (Acrylonitrile-Butadiene-Styrene) resins and derivatives in Europe.
Operating from its head office in Tarragona, Spain, and with Sales support teams in all key markets, the company is a specialist provider of tailor-made solutions for high quality thermoplastics applications. With a 40-year track record, ELIX Polymers is an expert in ABS polymers, and it has the resources, the expertise and the experience to create value for its customers through highly individual solutions.
ELIX Polymers offers a broad range of material solutions for a variety of industries and applications, meeting the stringent requirements of the Healthcare, Automotive, Appliances, Electronic, Toys and other industries.
For more information please visit www.elix-polymers.com.
As per corporate identity, ELIX is written in capitals. Would you be so kind as to use this way of writing when publishing this story? Many thanks.
Related images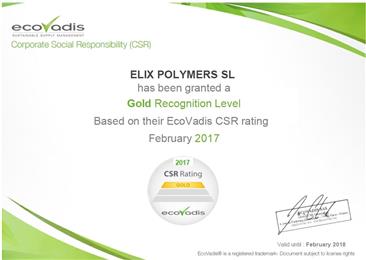 Also available in