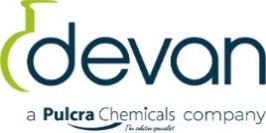 1 Jul 2021
Pentahold verkoopt Devan International Group aan het Duitse Pulcra Chemicals
Pentahold en Pulcra Chemicals hebben vandaag de overname van Devan International Group (Devan) aangekondigd.
RONSE, BELGIE – Devan is actief in specialty chemicals voor de textiel-wereld. Devan heeft zijn hoofdzetel in Ronse en kantoren in Portugal, de UK, de US en China.
Devan is bekend van talrijke innovaties op het vlak van anti-microbiële en anti-virale oplossingen onder de merknaam BI-OME. De antivirale oplossing (o.a. tegen sars-cov-2, H1N1..) kwam tot stand met de hulp van Vlaio en het gereputeerde Institut Pasteur.
De onderneming heeft een lange staat van dienst op het vlak van groene chemie en duurzaamheid voor de mondiale textielsector. De voorbije 2 jaar ontwikkelde Devan diverse bio-gebaseerde innovatieve producten die helpen bij circulaire textiel-oplossingen. De onderneming is houder van diverse patenten op het vlak van thermoregulatie, probiotica en health & wellness.
Devan sloot 2020 af met een omzet van 17.8 MEUR en een EBITDA van 4,2 MEUR.
Pulcra Chemicals heeft zijn hoofdkwartier nabij München (Duitsland). Wereldwijd stelt Pulcra Chemicals circa 1.000 mensen te werk in 13 vestigingen.
De verkoopsprijs wordt niet bekend gemaakt.
Lezersvragen
Devan Chemicals NV
Klein Frankrijkstraat 8
9600 Ronse
Belgium
---
Opmerkingen voor de redactie
Devan Chemicals
Devan Chemicals is een wereldspeler op vlak van innovatieve chemische producten en processen voor textiel en ontwikkelt functionaliteiten die de performantie en bescherming van het textiel verhogen. Het hoofdkantoor bevindt zich in België en het bedrijf heeft kantoren in het VK, Portugal en de VS. Het bedrijf is opgericht in 1977 en is sterk gericht op innovatie, research & development en duurzaamheid. Devan is een toonaangevende innovator op het gebied van bescherming (brandvertragers), prestatie (geurbestrijding en vlekverwijdering), warmteregulering (faseovergangsmaterialen (PCM's) en koeltechnologieën zoals Moov&Cool®), gezondheid en welzijn (aromatherapie, R-Vital™ en allergenenbeheer) en vezels en garen (functionele masterbatchtechnologieën).
Pulcra Chemicals
Pulcra Chemicals is active in development, production and sales of textile, fiber and leather auxiliaries. Headquartered in Geretsried, Germany, Pulcra operates production and laboratory facilities, service centers and sales offices around the world. Its global network covers 13 different locations, a workforce of 1000 employees, with around 300 engineers and chemists that services more than 3000 customers globally. Based on its more than 145 years of partnering with textile, fiber and leather producers Pulcra has a long heritage and tradition in being the solution provider of choice for its customers.
Related images

Editorial enquiries
Sven Ghyselinck
CEO
Devan Chemicals NV
Kim Lommaert
Marketing Solutions NV
Also available in