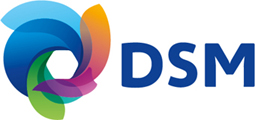 10 May 2012
API Institute developed successfully an Arnitel® Eco monofilament for 3D printing systems of Almteq
API Institute has developed successfully a monofilament of Arnitel® Eco from DSM for Almteq's Inspire 3-D printing systems. Almteq aims to use only bio-based materials for its printers and was looking for a flexible material to add to its portfolio. Arnitel Eco fit the need for a flexible or elastic bio-based material able to offer the right technical performance. API Institute develops and produces bio-based monofilament solutions for 3D printing in new innovative materials.
In 2010, DSM launched Arnitel Eco at the K-fair in Düsseldorf. Arnitel Eco is a high performance thermoplastic co-polyester (TPC) with a 20%-50% content derived from renewable resources. Arnitel Eco is available in a hardness range from 40-70 Shore D. The material offers an up to 50% lower carbon footprint than classic co-polyester products.
Francis Aussems, Project Manager Bio-Polyesters for DSM, says: "It is great to see that, in addition to its environmental benefits, the performance of our Arnitel Eco is really differentiating. The excellent heat and melt stability ensures that high quality products can be produced with the Inspire technology".
Applied Polymer Innovations Emmen (API Institute) has developed the thermoplastic monofilament materials based on Arnitel Eco for 3D-printing applications. Fused deposition modeling (FDM) is a new additive manufacturing technology commonly used for modeling, rapid prototyping, and production applications. The Arnitel Eco monofilament is melted and deposited by an extrusion head of the 3D-printer, which follows a tool-path defined by the CAD file. The materials are deposited in layers as fine as 0.15 mm, and the part is built from the bottom up – one layer at a time. Jan Jager, Director R&D at API Institute says: "Using Arnitel Eco now gives us the opportunity to develop flexible parts using the 3D-printing technique".
Reader enquiries
DSM Engineering Plastics
30 Pasir Panjang Road #13-31
Mapletree Business City
Singapore 117440
Singapore
www.dsm.com
@dsm
linkedin.com/company/dsm
facebook.com/DSMcompany
youtube.com/user/dsmcompany
---
Notes for editors

DSM - Bright Science. Brighter Living.™
Royal DSM is a global science-based company active in health, nutrition and materials. By connecting its unique competences in Life Sciences and Materials Sciences DSM is driving economic prosperity, environmental progress and social advances to create sustainable value for all stakeholders. DSM delivers innovative solutions that nourish, protect and improve performance in global markets such as food and dietary supplements, personal care, feed, pharmaceuticals, medical devices, automotive, paints, electrical and electronics, life protection, alternative energy and bio-based materials. DSM's 22,000 employees deliver annual net sales of around €9 billion. The company is listed on NYSE Euronext. More information can be found at www.dsm.com.
DSM began trading with China in 1963 and established first China sales office and first manufacturing facility in early 1990s. The company currently has 26 locations including 18 manufacturing sites in China and employs about 3,000 people. DSM China regional headquarters and R&D center is located in Shanghai. DSM's business is growing healthily and steadily in China with revenue of about 1.6 billion USD in 2010.
About Applied Polymer Innovations Emmen B.V.
Applied Polymer Innovations Emmen B.V., abbreviated as API Institute, is an independent knowledge centre for applied polymer and fibre research in Emmen, The Netherlands. API Institute builds on expertise gained in 25 years within the former Akzo Nobel Central Research laboratories and is supported by a well-equipped physical analytical laboratory and extended pilot plant facilities with mid-volume production capacity. API Institute produces high end (bio-based) polyester fibres and (bio-based) monofilament in different materials, diameters and any colour for 3D printing.
About Almteq B.V.
Almteq, located in Vollenhove, The Netherlands, wants to make 3D printing (3D technology) accessible to everyone so more people find out what 3D printing is and what it can accomplish. Almteq brings affordable 3D printers to the Western European market. Almteq distributes their products in Western Europe and focus on research and development. Important is the affordability of a machine and what it can do. The price of plastics must be affordable for everyone. Also the plastics should be evolving out of natural bio products for sustainability.