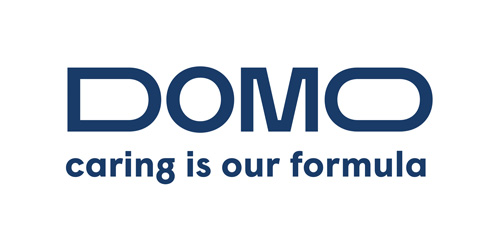 10 Jul 2019
Introducing DOMO Film Solutions and Nyleen™ new sustainable BOPA and CPA films
DOMO renames film business
Focus on sustainable films for flexible packaging and technical applications
Introduces Nyleen™ nylon film with low carbon footprint
Leuna, July 10, 2019 - DOMO Chemicals, a leading integrated high quality material engineering company,  underlines its position as one of the main providers of nylon film solutions in Europe by renaming its business currently known as cfp flexible packaging S.p.A. to DOMO Film Solutions S.p.A. The name change is effective immediately.
The purpose is to visibly incorporate the company within the DOMO Group brand identity and to clearly indicate its core business and related scope: providing customers with solutions based on more than 40 years of expertise and full upstream integration with the nylon 6 chemical chain. The company has been part of the DOMO Chemicals Group since July 2014 and has operated a new German BOPA plant since 2018.
Domo Film Solutions has a strong focus on sustainability and innovation of films for flexible packaging and other technical applications. A good example is the launch of its new Nyleen™ brand. This family of nylon films has a low carbon footprint compared to standard nylon film, according to a comparison between Ecoinvent 3.3 data and an LCA assessment performed by Quantis. Details of the study are available on request.
Introducing DOMO Film Solutions, the company's Managing Director, Attilio Annoni said: "DOMO Film Solutions is committed to the sustainable future of nylon. The introduction of Nyleen™ is only the first step. We want to go further: in the short term, the company will launch the first-ever vertically recycled/recyclable nylon film; the film team is also developing strategic partnerships with the aim of investigating bio-based solutions."
Jani Vuorenpaa – Business Development – Innovation & Sustainability Director added: "Our message to the market is clear: we want to make nylon film environmentally sustainable and we set out to continually improve our production processes, designed to achieve – and maintain – our leadership in low carbon footprint nylon film."
Reader enquiries
DOMO Chemicals
Am Haupttor, Bau 3101
06237 Leuna
Germany
www.domochemicals.com
domo
---
Notes for editors
About DOMO Chemicals
DOMO Chemicals is a leading producer of high-quality engineering materials for a diverse range of markets, including the automotive, food, medical, pharmaceutical, chemicals and electronics industries. The company offers a complete portfolio of integrated nylon 6 products, including intermediates, resins, engineering plastics and packaging film and distribution of petrochemical products. Headquartered in Germany, the family-owned company leverages advanced technology and consumer insights to deliver sustainable & innovative solutions. DOMO generated 2018 sales over EUR 900 million and employs approximately 1100 employees worldwide.