16 Jan 2023
Belden Single Pair Ethernet Portfolio of Connectivity Products Enables the IIoT
Future-Proof, Compact, Ruggedized and Sustainable Design Delivers Cost-Effective, Reliable Network Connectivity for Industry 4.0
Venlo, The Netherlands – January 16, 2023 – Belden, a leading global supplier of network and digitization solutions, today introduced its Single Pair Ethernet (SPE) portfolio of connectivity products, designed to optimize Ethernet connection possibilities in harsh environments, including industrial and transportation operations. The SPE portfolio includes IP20-rated PCB jack, patch cords and cordsets for clean-area connections and IP65/IP67-rated circular M8/M12 patch cords, cordsets and receptacles for reliable field device industrial ethernet connections.
For industrial applications, the products create the foundation for real-time communications between all devices on the network, the enterprise backbone and the cloud to improve process efficiency and reduce operational costs. As Industry 4.0 evolves and the number of sensors and actuators in automated production cells that connect to the factory backbone grows, the new SPE product portfolio is the simple, affordable solution to further enable predictive maintenance, digital twins and more.
For transportation applications, the Belden SPE products offer a 30% improvement on bending ratio and 30% smaller outer diameter, alleviating issues caused by tight spaces between vehicle bodies. In addition, the products simplify cabling to improve customer experience with a greater range of connectivity and reduce the weight added by existing connectivity products by nearly half.
The Belden SPE portfolio of connectivity products provides:
Future-proof innovation: Ethernet-based, the simplified network topology enables seamless connectivity from sensors to the cloud; gateways become optional.
High-performance bandwidth support: up to 10Gbits/s.
Rugged protection from harsh conditions: IP65/67 design protects against mechanical shock, vibration, dust, chemicals and temperature extremes; suitable for M3I3C3E3 environments.
A compact, lightweight design: increased flexibility and bending ratios make the cordsets easy to commission and overcome tight space constraints.
Built for sustainability: manufactured with 55% less metal and plastic than popular Ethernet cordsets, resulting in improved carbon footprint and ESG Rating without sacrificing performance; IEC 63171-6, Lead-free RoHS compliant.
"The communication network plays an increasingly important role in both Industry 4.0 and modern transportation applications. In both areas, it's critical for real-time data from connected field devices to be monitored, seamlessly shared and analyzed simultaneously to ensure the optimal performance of the operation," said Chen Zhang, product manager at Belden. "Our SPE product portfolio ensures reliable connectivity and gives customers a future-forward solution for mission-critical industrial applications and radical new transportation applications."
Belden's new SPE portfolio is a one-stop shop of connectivity products that are compact and durable, provide much greater coverage, and are the ideal network connectivity choice for machine building, automotive manufacturing, food and beverage manufacturing, intralogistics, mass transit systems, traffic control/systems, railway, train stations, and rail-rolling stock.
For more information on Belden's SPE portfolio of connectivity products please visit https://www.belden.com/products/connectors/industrial-connectors/Single-Pair-Ethernet-SPE-Connectors.
Reader enquiries
Belden
P.O. Box 9
5900 AA VENLO
Netherlands
---
Notes for editors
About Belden
Belden Inc. delivers the infrastructure that makes the digital journey simpler, smarter and secure. We're moving beyond connectivity, from what we make to what we make possible through a performance-driven portfolio, forward-thinking expertise and purpose-built solutions. With a legacy of quality and reliability spanning 120-plus years, we have a strong foundation to continue building the future. We are headquartered in St. Louis and have manufacturing capabilities in North America, Europe, Asia, and Africa. For more information, visit us at www.belden.com; follow us on Facebook, LinkedIn and Twitter.
Belden and the Belden logo are trademarks or registered trademarks of Belden Inc. or its affiliated companies in the United States and other jurisdictions. Belden and other parties may also have trademark rights in other terms used herein.
Related images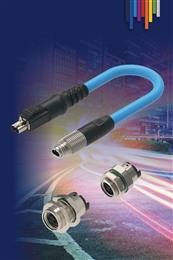 Editorial enquiries
Kim Vermeer
EMG