19 Jan 2021
Belden Future-Proofs Large Industrial Networks with Advanced Security and Redundancy
New High-Port Managed Switch from Hirschmann Meets Rising Bandwidth Needs
St. Louis, Missouri - January 19, 2021 - Belden Inc. (NYSE: BDC), a leading global supplier of specialty networking solutions, has released its Hirschmann BOBCAT High-Port Switch, the newest addition to the growing BOBCAT family. This managed switch, with up to 24 ports, offers a compact yet powerful networking solution for the Industrial Internet of Things (IIoT).
"With bandwidth needs constantly rising and a growing number of connected devices on the network, our customers need solutions that can maximize performance and security – even while taking up less space and operating reliably under harsh conditions," said Thomas Rodenbusch-Mohr, product manager at Belden. "We've designed a high-port count variant of our BOBCAT switch to give the industry more flexibility and interoperability, with the ultimate goal of simplifying maintenance and future-proofing their network operations."
Key benefits from the compact managed BOBCAT switches include:
High-port density for connecting a growing number of network devices
Time-sensitive networking (TSN) technology to simultaneously support multiple services on the network while ensuring deterministic communication
Future-proofed design to support increased bandwidth and speed capabilities for continued network growth
Advanced security features, including wire-speed access control lists and automatic denial-of-service prevention
Maximum power output through Power over Ethernet (PoE/PoE+) ports that don't require load sharing
With advanced security and real-time communication features, the BOBCAT switches are an essential appliance relevant to many industrial markets, including automotive, manufacturing, machine building, water management, and oil and gas. They are also applicable in transportation and power management applications, helping to deliver critical real-time information, like deterministic signaling and energy flow. The high bandwidth and port count, combined with a ruggedized design, makes the switches ideal for airports and seaports as well.
In partnership with Belden, companies can optimize, modernize, automate and secure their industrial networks. With a portfolio of standardized, multi-functional products, customers can reduce their total cost of ownership, while enabling sensor-to-cloud connectivity and gaining network-wide visibility. Belden also ensures seamless integration of future-proofed technologies into existing infrastructures for increased bandwidth, efficiency, security and network availability. The new BOBCAT High-Port Switch, combined with trusted insights from Belden experts, furthers Belden's alignment to customer KPIs that drive business impact.
For more information on the Hirschmann BOBCAT Switches, please visit: hirschmann.com/en/Hirschmann_Produkte/Industrial_Ethernet/OpenRail_family_/BOBCAT-Switches/index.phtml.
Reader enquiries
Belden
P.O. Box 9
5900 AA VENLO
Netherlands
---
Notes for editors
As an early innovator in industrial Ethernet, Belden knows industrial IT and delivers the next generation of industrial networking solutions, including wired, wireless and embedded products. With its global brands – Hirschmann, GarrettCom and Tofino Security – Belden helps companies minimize downtime and take advantage of the real-time data access and control made possible by the Industrial Internet of Things (IIoT). Through a seamless, secure and scalable industrial Ethernet infrastructure, companies are equipped to revolutionize their operations and achieve improved efficiency, productivity and agility. Visit www.belden.com/products/industrialnetworking/index.cfm to learn more.
About Belden
Belden Inc. delivers a comprehensive product portfolio designed to meet the mission-critical network infrastructure needs of industrial and enterprise markets. With innovative solutions targeted at reliable and secure transmission of rapidly growing amounts of data, audio and video needed for today's applications, Belden is at the center of the global transformation to a connected world. Founded in 1902, the company is headquartered in St. Louis and has manufacturing capabilities in North and South America, Europe and Asia. For more information, visit us at www.belden.com; follow us on Twitter: @BeldenIND.
Belden, Belden Sending All The Right Signals, Hirschmann, GarrettCom, Tofino Security and the Belden logo are trademarks or registered trademarks of Belden Inc. or its affiliated companies in the United States and other jurisdictions. Belden and other parties may also have trademark rights in other terms used herein.
Related images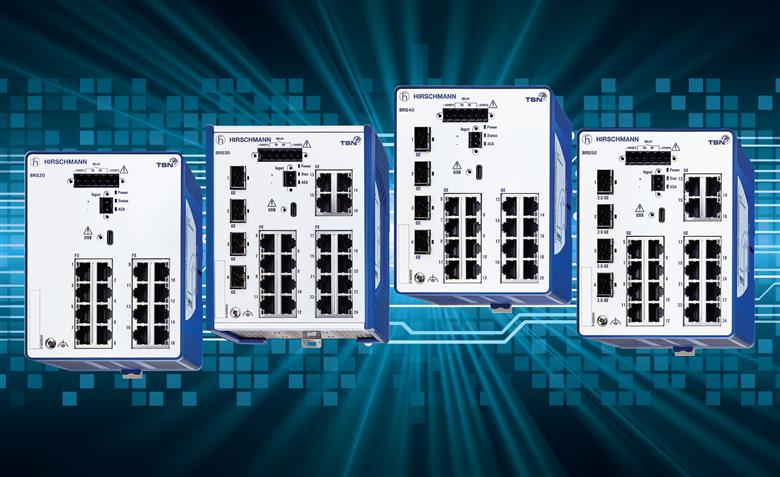 Editorial enquiries
Varsha Lalla
EMG