22 Feb 2018
Belden Delivers User-Friendly DPI Technology to Improve Industrial Scalability, Security
New Deep Packet Inspection Enforcer Protects Critical Energy Infrastructure
St. Louis, Missouri - February 22, 2018 - Belden, Inc., a global leader in signal transmission solutions for mission-critical applications, has released the latest version of the Tofino Xenon Security Appliance Release 3.2, which supports the new Tofino Xenon Generic Object-Oriented System Events (GOOSE) Enforcer Loadable Security Module (LSM). The plug-in security module ensures data packets are delivered in a secure and scalable manner.
"Managing large deployments of data while simultaneously ensuring network security is increasingly difficult for even the most advanced teams. Evolving industrial security standards require extensive network oversight that traditional firewall technology can't always provide," said Divij Agarwal, product manager at Belden. "Belden applied new DPI technology with this dilemma in mind. Easy to implement and integrate into existing networks, this new version of the Tofino Xenon Security Appliance will help teams improve the health and longevity of their industrial communication systems."
With the Tofino Xenon Release 3.2, users can better manage networks through several compelling features:
Simplify compliance to safety and security standards with new superior protection against attacks and misconfigurations.
Reduce downtime, maintenance costs and production losses by managing large deployments of data from a central location.
Improve system reliability and stability through superior integration capabilities with Tripwire solutions.
The new Tofino Xenon GOOSE Enforcer LSM, the featured update to Release 3.2, is best suited for sectors that require enhanced DPI to prevent attacks and support dispersed network communications, SCADA Master Station protection and NERC CIP compliance. The device is ideal for industrial markets that communicate over long distances, often from a centralized location, such as the energy, manufacturing, machine building, food and beverage, and water/wastewater sectors.
For more information on the new Tofino Xenon GOOSE Enforcer LSM, please visit www.hirschmann.com/en/Hirschmann_Produkte/Industrial_Ethernet/security-firewall/Tofino-Xenon-Security/index.phtml. 
Reader enquiries
Belden
P.O. Box 9
5900 AA VENLO
Netherlands
+31 77 387 8555
www.belden.com
@BeldenInc
---
Notes for editors

As an early innovator in industrial Ethernet, Belden knows industrial IT and delivers the next generation of industrial networking solutions, including wired, wireless and embedded products. With its global brands – Hirschmann, GarrettCom and Tofino Security – Belden helps companies minimize downtime and take advantage of the real-time data access and control made possible by the Industrial Internet of Things (IIoT). Through a seamless, secure and scalable industrial Ethernet infrastructure, companies are equipped to revolutionize their operations and achieve improved efficiency, productivity and agility. Visit www.belden.com/products/industrialnetworking/index.cfm to learn more.
About Belden
Belden Inc., a global leader in high quality, end-to-end signal transmission solutions, delivers a comprehensive product portfolio designed to meet the mission-critical network infrastructure needs of industrial, enterprise and broadcast markets. With innovative solutions targeted at reliable and secure transmission of rapidly growing amounts of data, audio and video needed for today's applications, Belden is at the center of the global transformation to a connected world. Founded in 1902, the company is headquartered in St. Louis and has manufacturing capabilities in North and South America, Europe and Asia. For more information, visit us at www.belden.com; follow us on Twitter: @BeldenIND.
Belden, Belden Sending All The Right Signals, Hirschmann, GarrettCom, Tofino Security and the Belden logo are trademarks or registered trademarks of Belden Inc. or its affiliated companies in the United States and other jurisdictions. Belden and other parties may also have trademark rights in other terms used herein.
Related images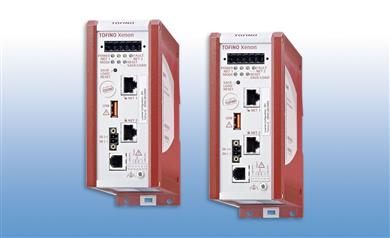 Also available in