14 Sep 2017
Renfe High-Speed Train TV Service Runs on Belden Switches
Belden Wins Contract for Ethernet Solutions for Telefonica's Award-Nominated 'TV Anywhere' Project
Venlo, The Netherlands - September 14, 2017 - Belden Inc., a global leader in signal transmission solutions for mission-critical applications, is supplying components for an updated multimedia network for Renfe's high-speed trains, in a project led by Telefonica. Belden's reputation, railway experience and proven technology combined to help win the contract.
Belden is part of a team working on the award-nominated PlayRenfe project managed by Telefonica to enable 'TV anywhere' on the high-speed train network of Spain's national railway operator, Renfe. The new WLAN and Wi-Fi service, a cutting-edge project which is also shortlisted for the IBC 2017 award, will provide 19 million Renfe passengers with easy access to multimedia content.
A variety of cabling, connectors and switches are being supplied by Belden's local partner, Colway, over the next four years. They include over 1100 units of its highly reputable OS30 Octopus switches. With rolling stock from three manufacturers, Belden had to tailor the system to match the different trains. "Being involved in this first-of-its-kind project in Spain is very exciting," said Richard Weatherburn, vertical marketing manager for transportation at Belden. "Each train has unique requirements. Also, while the end-application is a broadcast system, it is an industrial implementation so the requirements for safety, robustness and a long operating life were very high."
Belden industrial products have been used in trains for many years and their proven performance is one reason they were chosen for the project. According to Telefonica, with Belden's long heritage and experience of train solutions, they were the obvious choice as the products are highly reliable. Belden has a lot of knowledge and experience in the railway market, so they could count on them to deliver a complete solution with the lowest maintenance requirements and longest operating life.
Certification plays an important role in component quality and Belden's industrial products are qualified to meet the demanding environment of high-speed trains, where heat and vibration are among the challenges. For example, Belden's railway approved Rail-Tuff Ethernet data cables have a special casing to mitigate risk of melting in the case of a fire.
Another key point in securing the contract was that the local Belden supplier, Colway, has CINP (Certified Industrial Network Provider) certification. This means that Colway's technicians have completed Belden CINP training. This further enhances customer confidence in system quality as well as providing extended system warranty.
Reader enquiries
Belden
P.O. Box 9
5900 AA VENLO
Netherlands
+31 77 387 8555
www.belden.com
@BeldenInc
---
Notes for editors

As an early innovator in industrial Ethernet, Belden knows industrial IT and delivers the next generation of industrial networking solutions, including wired, wireless and embedded products. With its global brands – Hirschmann, GarrettCom and Tofino Security – Belden helps companies minimize downtime and take advantage of the real-time data access and control made possible by the Industrial Internet of Things (IIoT). Through a seamless, secure and scalable industrial Ethernet infrastructure, companies are equipped to revolutionize their operations and achieve improved efficiency, productivity and agility. Visit www.belden.com/products/industrialnetworking/index.cfm to learn more.
About Belden
Belden Inc., a global leader in high quality, end-to-end signal transmission solutions, delivers a comprehensive product portfolio designed to meet the mission-critical network infrastructure needs of industrial, enterprise and broadcast markets. With innovative solutions targeted at reliable and secure transmission of rapidly growing amounts of data, audio and video needed for today's applications, Belden is at the center of the global transformation to a connected world. Founded in 1902, the company is headquartered in St. Louis and has manufacturing capabilities in North and South America, Europe and Asia. For more information, visit us at www.belden.com; follow us on Twitter: @BeldenIND.
About Colway Industrial
Colway 08 Industrial, s.l., is a leading family owned Spanish industrial company with a large international experience executing projects in railway, energy and telecom. As systems integrators of top technology companies as Belden, Colway Industrial provides fully integrated communications networks for critical application as well as a wide portfolio of railway systems. For more information, visit us at www.colway-08.com.
---
Belden, Belden Sending All The Right Signals, Hirschmann, GarrettCom, Tofino Security and the Belden logo are trademarks or registered trademarks of Belden Inc. or its affiliated companies in the United States and other jurisdictions. Belden and other parties may also have trademark rights in other terms used herein.
Related images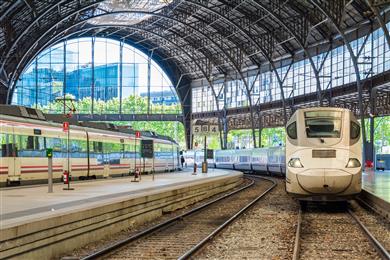 Also available in