13 Jun 2017
Belden Compliant with Mandatory New EU Radio Equipment Directive
All Hirschmann Products Met RED 2014/53/EU Standard by June 12 Deadline
Venlo, The Netherlands - June 13, 2017 - Belden Inc., a global leader in signal transmission solutions for mission-critical applications, confirmed today its compliance with the new Radio Equipment Directive (RED) 2014/53/EU. All Hirschmann wireless solutions fully adhere to the new guidelines, including the OpenBAT, BAT450-F, BAT867R and BAT-C Industrial Wireless LAN access points/clients, as well as all OWL Industrial Cellular Routers.
The new RED replaces the former R&TTE (Radio and Telecommunication Terminal Equipment Directive 1999/5/EC) after a year-long transition period. All radio products shipped to the European Union on or after June 13 must conform with the new directive. While some radio equipment manufacturers faced challenges in meeting the deadline, all Hirschmann affected radio devices are RED-compliant on time.
Per the European Commission, the new RED ensures a single market for radio equipment by setting essential requirements for safety and health, electromagnetic compatibility and the efficient use of the radio spectrum. This applies to all products using the radio frequency spectrum, including Hirschmann products.
To meet the new requirements defined by RED, Hirschmann devices with the HiLCOS operating system (OpenBAT, BAT450-F and BAT867-R) are now being produced with new software versions (09.12.5700 and 09.14.5700).
More information about RED is available on the European Commission website here: ec.europa.eu/growth/sectors/electrical-engineering/red-directive_en.
For more information about Hirschmann and its families of RED-compliant radio products, visit: www.hirschmann.com/en/Hirschmann_Produkte/Industrial_Ethernet/BAT-Family/index.phtml.
Reader enquiries
Belden
P.O. Box 9
5900 AA VENLO
Netherlands
+31 77 387 8555
www.belden.com
@BeldenInc
---
Notes for editors

As an early innovator in industrial Ethernet, Belden knows industrial IT and delivers the next generation of industrial networking solutions, including wired, wireless and embedded products. With its global brands – Hirschmann, GarrettCom and Tofino Security – Belden helps companies minimize downtime and take advantage of the real-time data access and control made possible by the Industrial Internet of Things (IIoT). Through a seamless, secure and scalable industrial Ethernet infrastructure, companies are equipped to revolutionize their operations and achieve improved efficiency, productivity and agility. Visit www.belden.com/products/industrialnetworking/index.cfm to learn more.
About Belden
Belden Inc., a global leader in high quality, end-to-end signal transmission solutions, delivers a comprehensive product portfolio designed to meet the mission-critical network infrastructure needs of industrial, enterprise and broadcast markets. With innovative solutions targeted at reliable and secure transmission of rapidly growing amounts of data, audio and video needed for today's applications, Belden is at the center of the global transformation to a connected world. Founded in 1902, the company is headquartered in St. Louis and has manufacturing capabilities in North and South America, Europe and Asia. For more information, visit us at www.belden.com; follow us on Twitter: @BeldenInc.
Belden, Belden Sending All The Right Signals, Hirschmann, GarrettCom, Tofino Security and the Belden logo are trademarks or registered trademarks of Belden Inc. or its affiliated companies in the United States and other jurisdictions. Belden and other parties may also have trademark rights in other terms used herein.
Related images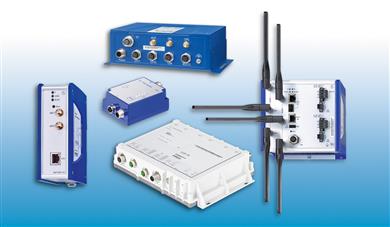 Also available in