11 Jul 2017
Belden Introduces Industrial Cyber Security for Dummies
Belden/Tripwire publication addresses cyber-physical security to help industrial organizations defend themselves against attacks
St. Louis, Missouri - July 11, 2017 - Belden Inc., a global leader in signal transmission solutions for mission-critical applications, has published a special edition of Industrial Cyber Security for Dummies. The book, which was written by David Meltzer and Jeff Lund, is a Belden/Tripwire Special Edition. It can be downloaded free of charge in .pdf format – and is also available in a regular print edition.
Industrial Cyber Security for Dummies discusses the basic concepts of cyber security in ICS environments and will help both information technology (IT) and operations technology (OT) teams determine the foundational security controls appropriate to each unique industrial environment. The book provides an overview of the industrial cyber security landscape and the basics of getting started with an effective cyber security program. It demonstrates how real‐world industrial breach scenarios put network availability, safety, and resiliency at risk.
Introducing the book, co-authors Jeff Lund and David Meltzer say: "The concern around cyber security in the industrial space continues to grow. Each day it becomes more crucial that industrial organizations understand the cyber landscape and know how to defend themselves against attacks. This book discusses the basics of industrial cyber-physical security and helps both IT and OT audiences understand what security controls are needed for industrial environments."
A free copy of Industrial Cyber Security for Dummies, a Belden/Tripwire Special Edition, can be downloaded at info.belden.com/iit/cyber-security-for-dummies.
Reader enquiries
Belden
P.O. Box 9
5900 AA VENLO
Netherlands
+31 77 387 8555
www.belden.com
@BeldenInc
---
Notes for editors

As an early innovator in industrial Ethernet, Belden knows industrial IT and delivers the next generation of industrial networking solutions, including wired, wireless and embedded products. With its global brands – Hirschmann, GarrettCom and Tofino Security – Belden helps companies minimize downtime and take advantage of the real-time data access and control made possible by the Industrial Internet of Things (IIoT). Through a seamless, secure and scalable industrial Ethernet infrastructure, companies are equipped to revolutionize their operations and achieve improved efficiency, productivity and agility. Visit www.belden.com/products/industrialnetworking/index.cfm to learn more.
About Belden
Belden Inc., a global leader in high quality, end-to-end signal transmission solutions, delivers a comprehensive product portfolio designed to meet the mission-critical network infrastructure needs of industrial, enterprise and broadcast markets. With innovative solutions targeted at reliable and secure transmission of rapidly growing amounts of data, audio and video needed for today's applications, Belden is at the center of the global transformation to a connected world. Founded in 1902, the company is headquartered in St. Louis and has manufacturing capabilities in North and South America, Europe and Asia. For more information, visit us at www.belden.com; follow us on Twitter: @BeldenIND.
About Tripwire
Tripwire is a leading provider of security, compliance and IT operations solutions for enterprises, industrial organizations, service providers and government agencies. Tripwire solutions are based on high-fidelity asset visibility and deep endpoint intelligence combined with business context; together these solutions integrate and automate security and IT operations. Tripwire's portfolio of enterprise-class solutions includes configuration and policy management, file integrity monitoring, vulnerability management, log management, and reporting and analytics.
Learn more at www.tripwire.com, get security news, trends and insights at www.tripwire.com/blog, or follow us on Twitter @TripwireInc.
Belden, Belden Sending All The Right Signals, Hirschmann, GarrettCom, Tofino Security and the Belden logo are trademarks or registered trademarks of Belden Inc. or its affiliated companies in the United States and other jurisdictions. Belden and other parties may also have trademark rights in other terms used herein.
Related images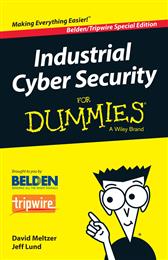 Also available in