24 May 2017
Belden Demonstrated the Practical Use of "TSN Ready" Switches at the Hannover Messe
Hirschmann Switches Enabled Transparent Real-Time Communication from the Control Level Down to the Field Level
Neckartenzlingen - May 24, 2017 - Belden Inc., a global leader in signal transmission solutions for mission-critical applications, used this year's Hannover Messe to show that switches supporting Time-Sensitive Networking (TSN) are becoming a reality. Prototype TSN-enabled Hirschmann RSPE35 switches that support this open, real-time Ethernet technology were shown in demonstrators at various booths throughout the show. These included the booths of the Industrial Internet Consortium (IIC) and the OPC Foundation, as well as those of Sercos International and SmartFactoryKL.
The common denominator of these demonstrators was TSN-protected industrial communication at Fast- and Gigabit-Ethernet speeds. At the IIC and OPC booths, visitors were able to see how multiple independent TSN data streams were transmitted between Programmable Logic Controllers (PLC) over the same network infrastructure, without being impacted by other traffic types including data from an IP camera. The demonstrators at Sercos International and SmartFactoryKL highlighted a migration path for existing real-time Ethernet solutions based on the example of Sercos III. The integration with a TSN-enabled infrastructure enables these real-time solutions to leverage the scalable bandwidth and flexible topology of an Ethernet-based network.
The Hirschmann RSPE35 devices are existing modular Managed Switches for the top hat rail, which were developed especially for operation at the control level in factory and process automation networks as well as networks of the energy and transport sectors. "These switches provide accurate time synchronization based on IEEE 1588v2. This time synchronization is the foundation of our TSN implementation shown at Hanover Messe" said Dr. René Hummen, senior architect technology and innovation at Belden. Furthermore, with support for VLAN tagging, these devices offer all basic requirements for the implementation of TSN. "However, the key feature that makes our prototypes TSN-capable is the implementation of the scheduled and precisely-timed data transmission in accordance with IEEE 802.1Qbv, which is often also referred to as Time Aware Shaper," states Dr. Hummen.
The successful use of the RSPE35 prototypes at the fair is the result of a long development process. Belden's Senior Architect Technology and Innovation Stephan Kehrer says: "We are involved in the development of TSN since the beginning of the IEEE standardization process in 2009. In addition, we participate in a number of activities in the context of this new technology, for example the IIC TSN testbed and its plugfests." The IIC testbed, which already has more than 15 participants, offers an ideal platform to determine that TSN devices from different vendors interoperate in a single TSN network. In the future, Belden will continue to leverage these testbeds and plugfests for testing and validation of new TSN standards. "Soon, however, the interoperability of the different vendor implementations must be ensured by certification as, for example, defined by the Avnu Alliance and similar organizations," states Mr. Kehrer.
Switches from Hirschmann with a "TSN Ready" logo will be available in the second half of this year and can be retrofitted with a free software update for this technology. Up-to-date information on this subject can be found at www.beldensolutions.com/en/Solutions-Markets/markets_solutions_news/tsn-wp27ms/index.phtml.
Reader enquiries
Belden
P.O. Box 9
5900 AA VENLO
Netherlands
+31 77 387 8555
www.belden.com
@BeldenInc
---
Notes for editors

As an early innovator in industrial Ethernet, Belden knows industrial IT and delivers the next generation of industrial networking solutions, including wired, wireless and embedded products. With its global brands – Hirschmann, GarrettCom and Tofino Security – Belden helps companies minimize downtime and take advantage of the real-time data access and control made possible by the Industrial Internet of Things (IIoT). Through a seamless, secure and scalable industrial Ethernet infrastructure, companies are equipped to revolutionize their operations and achieve improved efficiency, productivity and agility. Visit www.belden.com/products/industrialnetworking/index.cfm to learn more.
About Belden
Belden Inc., a global leader in high quality, end-to-end signal transmission solutions, delivers a comprehensive product portfolio designed to meet the mission-critical network infrastructure needs of industrial, enterprise and broadcast markets. With innovative solutions targeted at reliable and secure transmission of rapidly growing amounts of data, audio and video needed for today's applications, Belden is at the center of the global transformation to a connected world. Founded in 1902, the company is headquartered in St. Louis and has manufacturing capabilities in North and South America, Europe and Asia. For more information, visit us at www.belden.com; follow us on Twitter: @BeldenInc.
Belden, Belden Sending All The Right Signals, Hirschmann, GarrettCom, Tofino Security and the Belden logo are trademarks or registered trademarks of Belden Inc. or its affiliated companies in the United States and other jurisdictions. Belden and other parties may also have trademark rights in other terms used herein.
Related images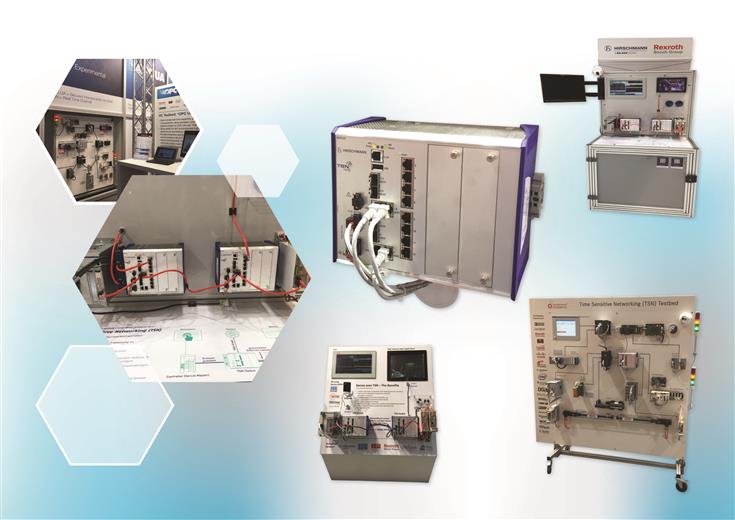 Also available in