19 Sep 2013
Signal Integrity and Proven Reliability With Belden Video Combination
New Duobond II HD Digital Video cables and Belden 1-piece HD BNC compression connectors provide broadcasters with a cost-effective solution that is high in performance and reliability
Venlo, The Netherlands - September 19, 2013 - Belden Inc., a global leader in signal transmission solutions for mission-critical applications, has extended its existing world-class portfolio of HD Digital Video cables by introducing a range of coaxes that provide a new level of high signal integrity. New Belden Duobond II HD Digital Video cables, which will be available throughout the EMEA region, reliably transmit HD digital video signals in broadcast systems at data rates of 3 GB/s, using technology that has already been proven in broadband and other applications. End users can be sure of high signal integrity when using these cables.
The improved performance of Duobond II HD Digital Video cables really comes into its own when they are used in combination with Belden 1-piece HD compression connectors. The joint cable/connector makes installation extremely easy, with Belden 1-piece compression connectors at each end to form a secure connection, thus saving installation time. Crimp connectors are also easy to attach. Together, they provide broadcasters with a cost-effective solution that is high in performance and reliability while supporting relevant rates and standards, including:
• SDI: SMPTE 259M (279 MB/s)
• HD: SMPTE 292M, 372M (1.5 GB/s)
• 2K: SMPTE 424M (3 GB/s)
• QFHD: SMPTE 425 under revision (6 GB/s)
• 4K: SMPTE 425 under revision (12 GB/s)
With an operating temperature range of -30°C to +70°C, these cables are suited for all types of broadcast applications, both in studios and for outside broadcasts.
According to Theo van Rijn product manager at Belden: "Today, broadcasters have to carry virtually any video signal including analog, digital (SD-SDI), high definition (HD), 3G (2K) and even 3D and Quad Full-HD with cable bundles of two or four coaxes. With our new Duobond II HD Digital Video solution, they no longer need to be concerned about the distance over which their cables will be able to transmit video signals." Van Rijn adds: "End users can be sure of high signal integrity when using these cables and connectors. This perfect combination of cable and connector not only improves the reliability of the system, it also helps to significantly reduce installation time."
The new cables and connectors are part of Belden's complete range of high performance systems for broadcasters, developed specifically for applications in the production and delivery of content. Other products include connectors, patch panels and routers.
Reader enquiries
Belden
P.O. Box 9
5900 AA VENLO
Netherlands
+31 77 387 8555
www.belden.com
@BeldenInc
---
Notes for editors

For more information about Belden, please visit www.beldensolutions.com or e-mail venlo.salesinfo@belden.com for product inquiries.
About Belden
Belden Inc., a global leader in high quality, end-to-end signal transmission solutions, delivers a comprehensive product portfolio designed to meet the mission-critical network infrastructure needs of industrial, enterprise and broadcast markets. With innovative solutions targeted at reliable and secure transmission of rapidly growing amounts of data, audio and video needed for today's applications, Belden is at the center of the global transformation to a connected world. Founded in 1902, the company is headquartered in St. Louis and has manufacturing capabilities in North and South America, Europe and Asia. For more information, visit us at www.belden.com; follow us on Twitter: @BeldenInc
Belden, Belden Sending All The Right Signals, and the Belden logo are trademarks or registered trademarks of Belden Inc. or its affiliated companies in the United States and other jurisdictions. Belden and other parties may also have trademark rights in other terms used herein.
Related images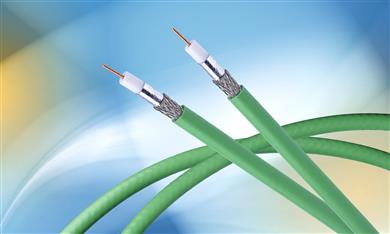 Also available in