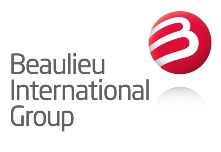 23 Aug 2022
Explore the durability & carbon-footprint reduction benefits of geotextile fibres & woven fabrics at EuroGeo7
Visit stand MS15, Hall M for fibre solutions and woven geotextiles
Achieve material savings and a longer service life with polyolefin fibres from Beaulieu Fibres International produced with 100% green electricity
Talk to Beaulieu Technical Textiles' geotextile experts for case studies proving performance & sustainability benefits, backed by Environmental Product Declarations
Wielsbeke, Belgium – August 23, 2022 – Beaulieu International Group invites EuroGeo7 attendees to Stand MS15 Hall M to discover geotextile solutions promoting greater sustainability for future civil engineering projects.
Join our specialists from Beaulieu Fibres International (BFI) and Beaulieu Technical Textiles (BTT) as they highlight support for high-performance geosynthetics through high tenacity fibres for lightweight, nonwoven geotextiles, and a range of high durability woven geotextile solutions with an environmentally beneficial impact.
"We are delighted to sponsor EuroGeo7 and to be finally on-site, following a two-year postponement of the event. EuroGeo7 is bringing the geotextile community together to further promote and develop geosynthetics in a fast changing global economy striving for growth while reducing its carbon footprint along the supply chain, " comment from Jefrem Jennard, Sales Director Fibres, and Roy Kerckhove, Sales Director Technical Textiles. "Geotextiles provide highly versatile, durable and natural resource-saving alternatives in large infrastructure works, and offer durable protection in erosion control and waste/water management projects. We are continuously developing our fibres and finished engineering textiles with proven sustainability-enhancing benefits to progress product development and customer sustainability goals on fossil carbon reduction, while taking concrete steps to reduce our own environmental footprint."
For manufacturers of nonwoven geotextiles, BFI's high-tenacity HT8 staple fibres enable customers to achieve nonwovens with high mechanical performance at reduced fibre weight. The HT8 high tenacity fibres are designed in a way that customers can meet the industry durability standards for a longer service lifetime, supporting more sustainable design and resource reduction over time.
BTT's woven geotextiles are amongst the most sustainable in the industry and provide a wide range of functions, including separation, filtration, reinforcement and erosion control.
They follow the comprehensive European standard EN 15804+A2 and are accompanied by third-party verified Environmental Product Declarations (EPD) to communicate the sustainability of each product to customers transparently. BTT's woven textiles can reduce CO2-emissions in infrastructure projects by a factor of 10 compared to more conventional methods such as gravel and help to minimize use of natural resources.
Sustainability improvement is key to the long-term strategy of Beaulieu International Group, and it is committed to supporting the geotextile industry by targeting and accelerating change and communicating the sustainable performance of its products. The UN Sustainable Development Goals are integrated into its business and are the foundations of the new Route 2030 Sustainability Roadmap.
BFI and BTT have conducted lifecycle assessments to calculate their activities' carbon footprint and solutions and have received external recognition for their ongoing sustainability efforts. For example, in 2022, BFI was awarded a Silver EcoVadis sustainability rating, and BFI and BTT are proud recipients of the Voka Charter for Sustainable Entrepreneurship 2022.
Find out more at EuroGeo7 Hall M Stand MS15.
Reader enquiries
Beaulieu International Group

Beaulieu Fibres International
Ooigemstraat 2B
Wielsbeke
Belgium
Beaulieu International Group

Beaulieu Technical Textiles
Ooigemstraat 2B
Wielsbeke
Belgium
---
Notes for editors
Beaulieu Fibres International
Beaulieu Fibres International puts innovation and sustainability central for a wide variety of industries such as Geotextiles, Hygiene & Wipes, Floor coverings, Automotive, Upholstery, Filtration, Composites and Construction.
As largest European producer of polyolefin fibres and bicomponent polyester/polyolefin fibres, our company is part of Beaulieu International Group with headquarters in Belgium. Three production sites in Europe – two in Belgium and one in Italy - supply MONO/BICO staple and shortcut fibres, in round and trilobal cross section with linear densities of 1.3 to 500 dtex.
Beaulieu Technical Textiles
Beaulieu Technical Textiles (BTT) is a globally represented and established manufacturer of woven technical fabrics. Combining a pioneering spirit and a hands-on mentality, our products are engineered to deliver sustainable, durable and best-in-class solutions, designed to respond to current demands and future trends.
Our firm commitment to product innovation is demonstrated through international R&D collaborations with renowned institutions and associations such as KU Leuven, imec, EnergyVille, EAGM, IGS, and others. As a result, we offer a range of woven polymer textiles of exceptional quality, durability and versatility.
Beaulieu Technical Textiles is a reference across diverse markets, offering solutions and applications in the fields of Agrotextiles, Geotextiles, Backings and Industrial Fabrics (product reinforcement & packaging textiles).
Beaulieu Technical Textiles is part of the Beaulieu International Group (B.I.G.), and a division of the Engineered Solutions business unit.
Related images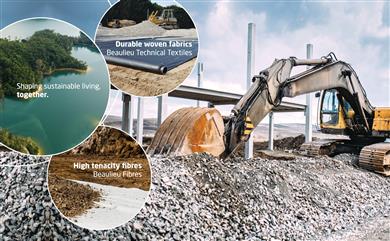 Editorial enquiries
Valérie Bouckaert
Beaulieu International Group
Kim Lommaert
EMG