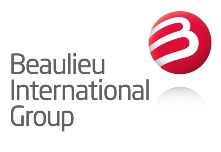 17 Jun 2022
Beaulieu Technical Textiles: go green with some of the most sustainable geotextiles in the industry
BTT's woven geotextiles can reduce CO2-emissions in infrastructure projects by a factor of 10 compared to more conventional methods
Product specific Environmental Product Declarations for woven geotextiles transparently communicate their sustainability
EPDs an essential tool to communicate sustainability performance
Helps carbon-conscious customers in their purchasing and decision making
Comines-Warneton, Belgium – June 17, 2022 – Beaulieu Technical Textiles (BTT) has unveiled the next step in its mission to deliver sustainable solutions to customers - product specific Environmental Product Declarations (EPD), an essential tool for communicating sustainability performance - to fully support green certified construction projects by providing accurate information in readily available formats.
The carbon footprint of BTT's woven geotextiles is amongst the lowest in the industry, making them one of the most sustainable solutions for civil engineering projects. An EPD shows a manufacturer's commitment to measure and reduce the environmental impact of its products and report these impacts in a very transparent way.
Construction products, like geotextiles, follow the very comprehensive European standard, EN 15804+A2. The third-party verification and approval by the international EPD® System officially demonstrates the low environmental impact of BTT's geotextile products.
"The environmental reflex is no longer an option or a nice to have. It lies in the heart of what BTT does and what we stand for. This EPD shows that our products fit perfectly in the global drive to reduce our carbon footprint and those of our customers. The use of our woven geotextiles in infrastructure projects reduces CO2-emissions with a factor 10 compared to more conventional methods such as gravel. The official document can be referred to by our customers in bidding for tenders," said Francis Denoo, Sales Manager, Geotextiles.
All BTT's woven geotextiles have very low CO2 emissions as demonstrated by the following Global Warming Potential figures:
Total Global Warming Potential (kg CO2 eq./m²) - Cradle to Gate
 
Terralys LF 17-17
Terralys LF 17-17 C1
Terralys GCL BL 35
Terrabarrier BL365 C3
 
92 g/m²
167 g/m²
110 g/m²
365 g/m²
Total
0,37
0,65
0,43
1,40
Downstream
0,17
0,33
0,20
0,72
Own production
0,02
0,02
0,02
0,05
Upstream
0,18
0,18
0,21
0,63
 
EPDs on geosynthetics bring more transparency and help carbon-conscious purchasing and decision making. Registered EPDs are globally recognized, publicly available and free to download through EPD Libraries. Europe's major EPD programmes launched the "ECO Platform" to ensure a degree of uniformity within the framework of the EN 15804 standard.
For more information on the environmental credentials of BTT's woven geotextiles you can visit the Environdec platform.
Reader enquiries
Beaulieu International Group

Beaulieu Technical Textiles
Ooigemstraat 2B
Wielsbeke
Belgium
---
Notes for editors
Beaulieu Technical Textiles
Beaulieu Technical Textiles (BTT) is a globally represented and established manufacturer of woven technical fabrics. Combining a pioneering spirit and a hands-on mentality, our products are engineered to deliver sustainable, durable and best-in-class solutions, designed to respond to current demands and future trends.
Our firm commitment to product innovation is demonstrated through international R&D collaborations with renowned institutions and associations such as KU Leuven, imec, EnergyVille, EAGM, IGS, and others. As a result, we offer a range of woven polymer textiles of exceptional quality, durability and versatility.
Beaulieu Technical Textiles is a reference across diverse markets, offering solutions and applications in the fields of Agrotextiles, Geotextiles, Backings and Industrial Fabrics (product reinforcement & packaging textiles).
Beaulieu Technical Textiles is part of the Beaulieu International Group (B.I.G.), and a division of the Engineered Solutions business unit.
Member of Beaulieu International Group
As a global family business, we develop and co-create – in an innovative, entrepreneurial and sustainable way - flooring and material solutions to enhance the quality of living and working for every generation.
Headquartered in Belgium, B.I.G. employs over 4,900 people worldwide in 19 countries throughout Eurasia, America and Oceania and serves customers in 140 countries. In 2021, B.I.G. reported sales of €2,5 billion. At B.I.G., we work purposefully to build a sustainable future. Our sense of entrepreneurship and our ambition enable us to continue to grow together with our employees, customers, suppliers, shareholders and the society in which we operate.
Related images
Editorial enquiries
Valérie Bouckaert
Beaulieu International Group
Kim Lommaert
EMG