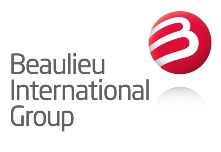 20 Jun 2022
Beaulieu Technical Textiles delivers sustainable, durable and best-in-class woven technical fabrics at Techtextil 2022 and beyond
Discover some of the most sustainable geo and agro textiles available
Carbon footprint of BTT's technical fabrics amongst lowest in the industry
Innovation part of core strategy to be a leader in both key markets
Wielsbeke, Belgium – June 20, 2022 – As the leading international trade fair for technical textiles and nonwovens gets underway in Frankfurt, Beaulieu Technical Textiles is proud to be showcasing its most sustainable technical solutions.
Professionals around the world rely on BTT's textiles across various industries including agrotextiles, geotextiles, product reinforcement textiles, packaging textiles and carpet backings, for quality and sustainability. The carbon footprint of BTT's technical fabrics is amongst the lowest in the industry, making them one of the most sustainable solutions for a wide array of projects.
"In line with our grow-from-your-core strategy, we have successfully reinforced our focus on high-value agrotextiles and geotextiles. By allocating more resources towards these high-end industries and rapidly implementing initiatives for commercial and operational excellence, we are becoming a market leader in both key markets," said Roy Kerckhove, Sales & Marketing Director of Beaulieu Technical Textiles.
Sustainable, durable and best-in-class
Just weeks after the Beaulieu International Group launched its first Sustainability Report, announcing ROUTE 2030, the Technical Textiles division is showcasing how it continues to advance its sustainability profile through comprehensive analysis and mapping.
This includes life cycle analyses for all its market segments in the exclusive use of PP, known for its low CO2 emissions; a reduction in energy consumption after the installation of almost 8000 solar panels on its factory roofs; the first Environmental Product Declarations for woven geotextiles to transparently communicate their sustainability; the installation of an in-house recycling unit; and BTT's vertical integration with polymers within Beaulieu International Group.
"Our sustainability strategy – Route 2030 – brings even more value to our woven sustainable solutions. The purpose and goals of our business are in full deployment. This is just the beginning of our sustainability journey in Technical Textiles," added Roy Kerckhove.
Geotextiles
BTT's woven geotextiles are amongst the most sustainable in the industry. They can reduce CO2-emissions in infrastructure projects by a factor of 10 compared to more conventional methods. Geotextiles and GCLs contribute to sustainable development by reducing the carbon footprint of a construction site, and additionally, the natural resources needed are significantly lower compared to conventional systems.
Agrotextiles
BTT is the leading manufacturer of woven technical fabrics for horticultural and landscaping industries in Europe and is continually improving its product portfolio through R&D partnerships with agronomy experts and research institutions. The division supports growers and farmers worldwide by providing solutions that increase the average productivity of a plantation through improved harvests; support uniform plant growth; improve ground water & soil conditions by eliminating the need for chemical herbicides & weed killers; and reduce labor costs.
Industrial fabrics
Woven polypropylene fabrics are used for a variety of applications across many different industries. BTT offers best-in-class woven polypropylene fabrics for product reinforcement textiles and packaging solutions, providing custom services for extrusion coating and lamination.
Sustainable Business Charter
Beaulieu Technical Textiles is fully committed to integrating the UN Sustainable Development Goals (SDGs) into its business activities and has mapped and defined action plans to make further progress in the implementation of these goals within the organization, encouraging partners to do the same. Last week BTT was awarded a VOKA Sustainable Business Charter for its 2021 SDG Action Plan. We continue along the path of corporate sustainability, defining new challenging goals with specific actions, seeking business opportunities with impact and encouraging our network to continue and contribute to a better world.
We look forward to showcasing our technical offerings at Techtextil 2022. Visit Booth C43, Hall 9.1, to discover how our complete portfolio of technical textiles can support your business.
Reader enquiries
Beaulieu International Group

Beaulieu Technical Textiles
Ooigemstraat 2B
Wielsbeke
Belgium
---
Notes for editors
Beaulieu Technical Textiles
Beaulieu Technical Textiles (BTT) is a globally represented and established manufacturer of woven technical fabrics. Combining a pioneering spirit and a hands-on mentality, our products are engineered to deliver sustainable, durable and best-in-class solutions, designed to respond to current demands and future trends.
Our firm commitment to product innovation is demonstrated through international R&D collaborations with renowned institutions and associations such as KU Leuven, imec, EnergyVille, EAGM, IGS, and others. As a result, we offer a range of woven polymer textiles of exceptional quality, durability and versatility.
Beaulieu Technical Textiles is a reference across diverse markets, offering solutions and applications in the fields of Agrotextiles, Geotextiles, Backings and Industrial Fabrics (product reinforcement & packaging textiles).
Beaulieu Technical Textiles is part of the Beaulieu International Group (B.I.G.), and a division of the Engineered Solutions business unit.
Member of Beaulieu International Group
As a global family business, we develop and co-create – in an innovative, entrepreneurial and sustainable way - flooring and material solutions to enhance the quality of living and working for every generation.
Headquartered in Belgium, B.I.G. employs over 4,900 people worldwide in 19 countries throughout Eurasia, America and Oceania and serves customers in 140 countries. In 2021, B.I.G. reported sales of €2,5 billion. At B.I.G., we work purposefully to build a sustainable future. Our sense of entrepreneurship and our ambition enable us to continue to grow together with our employees, customers, suppliers, shareholders and the society in which we operate.
Editorial enquiries
Valérie Bouckaert
Beaulieu International Group
Kim Lommaert
EMG