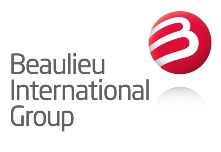 25 Oct 2021
Flooring manufacturer BerryAlloc travels across Europe with a mobile showroom
Menen, Belgium – November 1, 2021 – BerryAlloc is touring through Europe with its BerryAlloc Experience Tour from September to December 2021. The flooring manufacturer fitted out an entire truck in the iconic BerryAlloc style – both the inside and outside – to create a mobile showroom. The purpose was to give clients the opportunity to experience the full product range in a fun and creative manner, including interactive activities to test the quality of the floors. It also showcases the latest product innovations, such as 100% waterproof laminate, the strongest high pressure floors, the quick and simple DreamClick® installation system and the most recent collection of parquet floors with its high-tech solvent-free Ultimtec® varnish.
After more than a year of social distancing, the BerryAlloc team is keen to travel and meet their clients face-to-face once again. The BerryAlloc truck brings fun and creativity to clients across Europe, through client visits and meetings, as well as exclusive VIP events with food & drink in gorgeous, unique locations. It started its journey on the 8th of September in France. This month, the truck drives through Belgium, stopping in East Flanders, Brussels and Liège. In November, it's off to Poland and Czechia. Then it will tour Germany before stopping in the Netherlands in December, clocking up a total of 14,000 km.
A full product range
Opening the truck doors will have you enter the world of BerryAlloc. Clients are immersed in an all-round experience, in which they discover a myriad of products. The truck is split into four zones: laminate, high pressure floors & walls, vinyl planks and tiles, and parquet flooring. And there's something to discover in every zone. In the laminate area, water runs over the flooring, to demonstrate its resistance to water. In some zones, you can test the USPs yourself. For example, you can find out for yourself how strong the high-pressure floors are (spoiler alert: they're the strongest on the market). And with the Pure collection, the quietest vinyl planks and tiles, you can hear how the sound of a stiletto heel is muted when it hits the floor. In that same zone, clients get acquainted with DreamClick®, the quick and simple installation system and get to mix & match various planks and tiles.
New products and innovations
BerryAlloc aims to make floors of the highest quality, with ingenious techniques and user-friendly qualities. In 2008, they launched the ground-breaking hydro+ technology, making them the pioneer and leader in water-resistant laminate flooring. At the same time, BerryAlloc makes the strongest floors in the world: its high pressure floors. It also has the fastest and simplest installation system with DreamClick®. And that's not all. The innovative, solvent-free matt varnish Ultimtec®, with no chemical reagents, gives your parquet flooring optimal protection and a natural look. Premium quality, user-friendliness, durability, design, and aesthetics are high on the flooring manufacturer's list of priorities.
New branding
High-quality and innovative products aside, the branded truck also showcases BerryAlloc's creative and new branding. Reliable, sophisticated, never boring, and made for real life: these are the values that represent BerryAlloc. For BerryAlloc, floors are the foundation for moments of joy, carefree moments of joy. Where you're free to do as you please, without having to worry about your floor. This feeling translates itself through the branding, visuals, and communication style. But you'll also spot the pride, quality, and eye for detail in all the brand's products as well.
More information and images
Explore the truck yourself. Follow the BerryAlloc Experience Tour on LinkedIn and download images here.
For any other questions: e-mail marketing@berryalloc.com.
Reader enquiries
BerryAlloc NV

Industrielaan 100
BE-8930 Menen
Belgium
---
Notes for editors
About BerryAlloc
BerryAlloc offers a wide array of interior solutions for residential and commercial purposes, including laminate, vinyl planks and tiles, parquet, high pressure floors, and wall panels. Suitable for all kinds of interiors and lifestyles, BerryAlloc products are especially reputed for their high quality, durability, ease of installation, and modern aesthetics.
BerryAlloc is a company that prioritises innovation, quality, sustainability, and diversity. The Belgian-based international company also has plants in France and Norway, with an active client base in over 45 countries. BerryAlloc is a part of the Beaulieu International Group (B.I.G.), a global specialist in raw chemical materials, semi-finished engineered products and a leader in a broad range of floor coverings and upholstery fabrics. Find more information on www.berryalloc.com.
Related images
Also available in