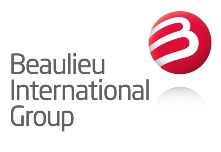 8 Mar 2021
B.I.G. Yarns launches EqoCycle Yarns designed with circular economy benefits & high performance for the carpet industry
75% recycled content yarn with no performance compromise
A circular, endlessly recyclable solution for contract, automotive and residential carpets
Significant resource efficiency in EqoCycle production compared to virgin-based PA6 yarn: 58% reduction in fossil fuel use; 27% less energy consumption; 37% CO₂ emission reduction
Wielsbeke, Belgium – March 8, 2021 – B.I.G. Yarns, a division of Beaulieu International Group, announces its latest development, EqoCycle, a fully recyclable PA6 yarn with 75% recycled content, offering the same high-quality performance of virgin PA6 yarn. The new recycled yarn mainly based on post-industrial waste supports contract, automotive and residential carpet manufacturers with a drop-in circular solution to reduce the ecological footprint of their end products.
EqoCycle is made with recycled granulates derived from pre-consumer recycled and regenerated PA6, certified by Control Union for Global Recycled Standard (GRS) Certification. The use of less virgin materials implicates a decrease of fossil fuels by 58% and a 27% decrease in energy consumption. On top, EqoCycle yarns allow a reduction of 37% of CO₂ eq./kg compared to the fossil based yarns. The environmental impacts of EqoCycle with 75% recycled content were calculated through an LCA analysis, verified according to ISO 14025 and EN 15804+A1 and published in an Environmental Product Declaration (EPD registration number S-P-02415).
Customers have the assurance that for every 1.000 tons of EqoCycle yarn, 13,562 barrels of oil are saved and 2.700 tons of CO₂ emission are reduced, compared to PA6 traditionally made from virgin materials.
Emmanuel Colchen, General Manager Yarns Division, comments: "EqoCycle is a perfect example of how higher resource efficiency in our industry can promote greater circularity in our customers' industries. Minimizing waste, re-using materials, and saving energy and carbon emissions in production, it provides our customers and carpet brands with a new sustainable alternative that won't compromise their end-product performance but will support their increasing focus on CO₂ reduction and global warming potential. All part of our wider commitment to encourage decoupling from the need for only virgin feedstocks and moving towards a circular economy for yarns and soft flooring industries."
EqoCycle is the latest circular solution in B.I.G. Yarns' PA6 portfolio, joining EqoBalance PA6, based on biomass balance renewable resources, which offers up to 75% CO₂ reduction. Both exemplify the company's on-going investment in developing new products that better serve customers' needs in a sustainable way. B.I.G. Yarns fully pursues opportunities to support and solve the global environmental challenges through innovation, investment and collaboration, as part of its sincere belief in, and broader commitment to, Social Responsibility.
The innovation of EqoCycle and EqoBalance PA6 aligns with the company's active integration of the UN Sustainable Development Goals (SDGs) into its business activities, creating value for customers and engaging employees and value chain partners.
Reader enquiries
Beaulieu International Group
Beaulieu Yarns
Ooigemstraat 2B
Wielsbeke
Belgium
+32 56 66 81 91
www.beaulieuyarns.com
---
Notes for editors
B.I.G. Yarns
B.I.G. Yarns is an independent entity within the Belgian family-owned business Beaulieu International Group and part of its Engineered Products Business Unit. It is a leading manufacturer of polyamide (PA) and polypropylene (PP) yarns for contract, automotive, residential and technical applications. Its products are supplied in the form of bulk continuous filament (BCF) and ennobled yarn (twist, heatset and frisé). B.I.G. Yarns distinguishes itself with an entrepreneurial yet simultaneously warm-hearted partnership approach, inspired by an open, SME culture, to create a wide range of high-quality yarns and related services that are often developed in close collaboration with customers and always with due respect to man and nature.
B.I.G. Yarns has two production sites in Europe – one in Belgium, one in France – and one production site in China.
Member of Beaulieu International Group
Beaulieu International Group (B.I.G.) is a global specialist in raw chemical materials (polymers), semi-finished engineered products (yarns, fibres, technical textiles and technical sheets) and is a leader in a broad range of floor coverings for the residential and commercial markets (vinyl rolls, vinyl planks, laminate, parquet, carpet, needle felt, artificial grass and mats) as well as upholstery fabrics.
Headquartered in Belgium, B.I.G. employs nearly 5,000 people across 29 plants, 20 sales and distribution offices, with a major presence in 17 countries all over Eurasia, the Americas and Oceania. The company achieved a 2019 turnover of €2 billion and is serving customers in 140 countries. True to its roots as a family business, B.I.G. puts sustainability, innovation and care for its employees central.
Related images
Also available in