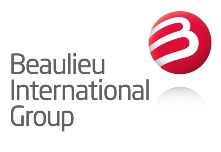 21 Oct 2020
BerryAlloc is reinventing parquet with new Ultimtec® technology
Parquet with a revolutionary varnish
A collection dedicated to decision-makers and professionals 
Menen, Belgium – October 21, 2020 – BerryAlloc is launching a completely new oak parquet collection. It is an eloquent illustration of the two principles that define its brand: very high quality coupled with state- of-the-art technology. This vision is acclaimed every day by clients, interior designers and fitters.
The collection has been entirely rethought, as the fruit of two years of research by the R&D department and various partners (colours and finishes co-created by a team of architects, colourists and designers). As such, it is a remarkable demonstration of this French manufacturer's savoir faire.
Thanks to its exclusive Ultimtec® technology, BerryAlloc's new collection succeeds in bringing together:
The delicate natural beauty of oiled parquet.
The ease of maintenance of a varnished parquet that is easy to clean, robust and long-lasting.
Ultimtec® varnish respects the wood and contains no solvents or chemical reagents. It is obtained by impregnating the wood with a primer with a basis rich in aluminium oxide, then applying a UV acrylic finish. Besides the elegant decorative result that preserves the depth and nuance of every tint in the wood, Ultimtec® offers:
An exceptional matt finish that meets the high requirements of homeowners and decorators. The matt surface obtained with the innovative Ultimtec® finish comes very close to that of natural wood;
Exceptional resistance to wear and tear and scratching. In terms of abrasion resistance, Ultimtec®'s performance is higher than 15,000 Taber CS10 cycles: in other words, it is far higher than the demands of the NF standard, which requires a minimum of 12,000 cycles;
Simplified maintenance and cleaning. It is no longer necessary to oil the parquet to preserve its original beauty.
A new approach based on colour and design
The consumer's natural reflex is to choose their parquet by colour, then texture. BerryAlloc bore this intuitive process in mind when compiling its new collection of parquets divided into two ranges: Les Essentiels, offering solid value in floor decoration, and Les Exclusifs, with a selection of deep colours and distinctive characters.
The colours of the 19 options have been completely redesigned and adapted to the different markets.
Les Essentiels is a palette of 10 colours offering solid value. Their names evoke the beauty of materials found in nature.
Les Exclusifs are a premium range that includes 10 meticulously designed colours with an enhanced sense of depth. Their names evoke wide, open landscapes.
Opt for sustainable and responsible development
Deciding on a BerryAlloc oak parquet is a responsible choice. The biggest French parquet manufacturer has always prioritised sustainable development by using naturally sourced materials and renewable resources.
BerryAlloc's parquets have a positive carbon footprint, which means their environmental impact is low. What is more, they have PEFC, Parquets de France and A+ certification.
/end
Technical specifications
High-performance innovative varnish Ultimtec®
High-tech parquet structure
3 layers assembled at high pressure and a low temperature
2.5 or 3.3 mm fine wood veneer
Body in high-density fibreboard (HDF)
Resin stabiliser
Advantages of HDF structure: density of 875kg/m³, shock resistant, less echo and increased efficiency when used with underfloor heating. 
Reader enquiries
BerryAlloc NV
Industrielaan 100
BE-8930 Menen
Belgium
www.berryalloc.com
@BerryAlloc
berryalloc-nv/
BerryAlloc
BerryAlloc
---
Notes for editors
About BerryAlloc
At BerryAlloc, we believe in life, in every kind of life, and every kind of floor. We offer a wide array of interior solutions for residential and commercial projects, ranging from laminate, vinyl and parquet floors to wall panels.
BerryAlloc's broad range of products are available in various colours and styles, which are suited to all types of interiors and lifestyles. Our floors are durable, and meet current aesthetic and technical requirements: quality, variety of finishes, durability, longevity and ease of installation.
Related images
Also available in