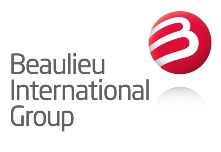 2 Dec 2019
UN Climate Conference 2019 chooses recyclable Rewind carpet from Beaulieu International Group
Waregem, Belgium – December 02, 2019 – The United Nations (UN) Climate Conference (COP25) starts today in Madrid. Because the UN itself wants to set a good example, it is focusing on sustainable solutions for the event. That is why the organizers chose the latex-free Rewind event carpet from Beaulieu International Group (B.I.G.), which is 100% recyclable. B.I.G. launched Rewind in September 2019.
The COP25 Climate Conference takes place from December 2 to 13. For this occasion, the UN will cover the exhibition halls of IFEMA - Feria de Madrid with 100,000m² of Rewind carpet.
"Rewind distinguishes itself from other event carpets because not only is it latex-free, but it does not consume water during production, uses 83% less gas and emits 35% less CO2," says Anthony Vanden Berghe, Sales & Marketing Director Tradeshow & Event at B.I.G. Because the carpet is completely latex-free, it is also fully recyclable into a clean, high-quality mono-recyclate.
"B.I.G. is a company that takes its environmental responsibilities seriously and invests in the circular economy," adds Anthony. Rewind is already creating a good basis for a successful climate summit.
Reader enquiries
Beaulieu International Group
Beaulieu Flooring Solutions
Kalkhoevestraat 16 bus 0.1
8790 Waregem
Belgium
+32 56 62 59 00
bintg.com/en/our-solutions/flooring-solutions
@BeaulieuGroup
beaulieu-international-group
beaulieuinternationalgroup
---
Notes for editors
For more details: www.rewindcarpet.com
Beaulieu International Group
Beaulieu International Group (B.I.G.) is a global specialist in raw chemical materials (polymers), semi-finished engineered products (yarns, fibres, technical textiles and technical sheets) and is a leader in a broad range of floor coverings for the residential and commercial markets (vinyl rolls, vinyl planks, laminate, parquet, carpet, needle felt, artificial grass and mats) as well as upholstery fabrics.
Headquartered in Belgium, B.I.G. employs more than 5,000 people across 29 plants, 18 sales and distribution offices, with a major presence in 17 countries all over Eurasia, the Americas and Oceania. The company achieved a 2018 turnover of €2 billion and is serving customers in 140 countries. True to its roots as a family business, B.I.G. puts sustainability, innovation and care for its employees central.
Related images
Also available in