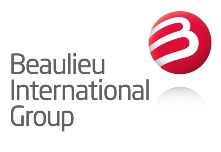 25 Jun 2019
Beaulieu International Group wins its fourth FM Global 'Highly Protected Risk' status – now for French parquet factory
Meaulne, France – June 25, 2019 – Beaulieu International Group (B.I.G.) has 29 plants all over the world. One of these, in Meaulne, France, manufactures parquet and is part of the Beaulieu Flooring Solutions division. On June 20, 2019, this factory was accorded the 'Highly Protected Risk' (HPR) status by insurer FM Global. HPR status means the plant meets the most stringent fire prevention and protection demands there can be.
The B.I.G. factory at Meaulne annually produces 1.5 million square meters of parquet flooring that is sold under its Berry Wood brand, itself part of the larger BerryAlloc brand. These figures make B.I.G. France's biggest producer of wood-engineered parquet.
"Because we work with wood, fire safety is one of the most important prevention duties that we have – to our people, our products, our machinery and to the environment," says Jean-Marc Legrand, Director of Berry Wood.
FM Global, Beaulieu International Group's (B.I.G.) industrial property and business interruption insurer since 2016, created the HPR status as a unique concept that demonstrates strongly reduced exposure to loss and increased business resilience. A dedicated worldwide team of engineers focuses on providing assistance and protection of B.I.G.'s assets, helping the Group to achieve a higher level of risk protection.
The Meaulne site is the fourth B.I.G. factory to receive HPR status and the third in Europe. It scored exceptionally well in its FM Global assessment which focused on aspects including fire protection, protection against natural hazards , mechanical breakdown of machinery and cyber risks.
Its overall risk mark of 76 ranks it within the world's top 25% of the wood product manufacturing industry for fire risk prevention and protection.
"This recognition is very important to us," comments James Neuling, Vice President of Beaulieu Flooring Solutions, "We take safety at work very seriously. Every risk that exposes people, assets or the environment to risk is simply one too many for us. I believe that this fourth accolade from FM Global also demonstrates our ongoing commitment to this issue."
"I would also like to express my gratitude to the entire workforce at the Meaulne site – it is only through our commitment as a team, that we succeeded in attaining HPR status," adds Jean-Marc Legrand, "To me, this commitment is a demonstration of B.I.G.'s strength as well as value to the customer."
Reader enquiries
Beaulieu International Group

Beaulieu Flooring Solutions
Kalkhoevestraat 16 bus 0.1
8790 Waregem
Belgium
bintg.com/en/our-solutions/flooring-solutions
---
Notes for editors
Beaulieu International Group
Beaulieu International Group (B.I.G.) is a global specialist in raw chemical materials (polymers), semi-finished engineered products (yarns, fibres, technical textiles and technical sheets) and is a leader in a broad range of floor coverings for the residential and commercial markets (vinyl rolls, vinyl planks, laminate, parquet, carpet, needle felt, artificial grass and mats) as well as upholstery fabrics.
Headquartered in Belgium, B.I.G. employs more than 5,000 people across 29 plants, 18 sales and distribution offices, with a major presence in 17 countries all over Eurasia, the Americas and Oceania. The company achieved a 2018 turnover of €2 billion and is serving customers in 140 countries. True to its roots as a family business, B.I.G. puts sustainability, innovation and care for its employees central.
Related images
Editorial enquiries
Veerle Blontrock
Beaulieu International Group
Kim Lommaert
EMG
Also available in