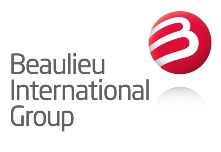 27 Feb 2019
Beaulieu Fibres International: global "one stop shop for innovative and value added staple fibers" at IDEA®19 Miami
Global launch of PET-core-BICO Fibers for hygiene applications
American premiere of UltraBond fiber
Stand 1716, IDEA, Miami, U.S.A., 25-28 March
Wielsbeke, Belgium – February 27, 2019 – Beaulieu Fibres International (BFI), the leading European polyolefin fiber supplier, will cement its place at this year's IDEA®19 Miami, as an important 'all solution provider' for polyolefin carded nonwovens in Personal Care and Hygiene, Geotextiles, Automotive, Floorcoverings and Filtration applications.
At this leading North American event BFI will launch its PET-core-BICO Fibers for hygiene applications as well as its new UltraBond staple fiber, again demonstrating its commitment to help customers stay at the forefront of carded nonwoven products.
Recent BFI investments have enlarged the company's product range, further helping producers to maximize value from their production equipment and to pursue exciting opportunities in emerging areas.
Highlights for IDEA19 visitors include:
PET-core-BICO Fibers launch and complete Meralux range on display
IDEA19 will see the global premiere of PET-core-BICO for hygiene applications. This staple fiber completes the offer for the hygiene market. It comes in a dtex range from 1,3-6,7dtex/40mm in both polymer-configurations PP/PET and PE/PET. The specific use of PET in the core improves the resilience/loft of the nonwoven. The use of PE in the sheath provides softness as required in top sheets, for example, while the configuration with PP in the sheath answers the requirements for ultrasonic bonding.
Also on display will be the complete range of Meralux-fibers, bicomponent fibers with a special cross section shape that combines good coverage and better liquid management in one staple fiber. This enables a higher loft/bulk, unique opacity and enhanced fluid distribution, providing significant improvements to the dryness of nonwoven for hygiene and medical applications.
American premiere of UltraBond fiber
For the first time in North America, BFI will be showcasing UltraBond, a new, unique fiber created for automotive and flooring needlepunch applications. A patented polyolefin bonding staple fiber, UltraBond eliminates the need for latex or other chemical binders to bind nonwovens, providing significant sustainability and cost efficiency benefits.
The staple fiber is already showing potential as a replacement for traditional binders like PE and low melt PET included in Carpet Backing, Contract Carpet, Outdoor/Residential Carpet and in automotive applications.
Karena Cancilleri, Vice President Engineered Products, Beaulieu Fibres International, comments, "Together with our customers, we look forward to exploring the potential of this unique thermal bonding fiber in other applications such as laminated nonwovens or as an alternative to dry powders."
Discover more about our Hygiene product portfolio and our UltraBond from the Beaulieu Fibres International team at Stand 1716, IDEA 2019 in Miami, U.S.A. from March 25-28, 2019.
Reader enquiries
Beaulieu International Group
Beaulieu Fibres International
Ooigemstraat 2B
Wielsbeke
Belgium
+32 56 66 81 91
www.beaulieufibres.com
---
Notes for editors
Beaulieu Fibres International
As largest European producer of polyolefin fibres, our company is part of the Engineered Products Business Unit of Beaulieu International Group, with headquarters in Belgium.
With three production sites in Europe – two in Belgium and one in Italy, we supply Mono/BICO fibres with round and trilobal cross section with linear densities of 1.0 to 500 dtex to customers in industries such as Automotive, Hygiene, Geotextiles, Flooring, Filtration and Upholstery. Our broad portfolio includes colored fibres, high elongation fibres, high tenacity fibres, ultrasoft fibres with different cross-sections, including trilobal, suitable for a wide range of processing technologies.
Member of Beaulieu International Group
Beaulieu International Group is a well-respected industrial group with headquarters in Belgium. It holds an important market position both in the production of raw materials and intermediate goods, and the supply of perfectly finished floorcoverings.
Beaulieu International Group is composed of three business units. 'Flooring Solutions', is a worldwide leader in wall-to-wall floorcoverings (carpet, needle felt, artificial grass, cushion vinyl, vinyl planks, laminate, parquet, wall panels and mats). A second business Unit, 'Polymers', produces polypropylene granules for numerous applications. The third business unit 'Engineered Products', houses the activities related to 'Fibres', 'Yarns', 'Technical Textiles' and 'Technical Sheets'.
Another division of Beaulieu International Group is specialized in the development and production of quality upholstery fabrics for the sofa industry.
Beaulieu International Group has more than 5,000 employees in 27 plants, 16 representative offices and distribution centres spread across 16 countries. In 2017, the combined turnover was close to €2 billion.
The Beaulieu International Group's entrepreneurial spirit and innovative ambitions make it the model of diversity and evolution within the sector. They allow it to create added value sustainably for customers, employees, suppliers, shareholders and for the society in which it operates.