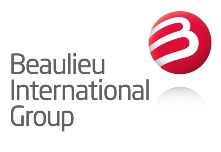 22 Feb 2019
Beaulieu Fibres International awarded prestigious FM Global "Highly Protected Risk" (HPR) status for production site in Wielsbeke
HPR is the highest status a plant can achieve for fire risk prevention and protection
The site Beaulieu Fibres International is the fourth in the Beaulieu International Group to reach HPR status
Underlines Group's commitment to risk prevention at B.I.G. sites & to reinforcing our strong business contingency plan
Wielsbeke, Belgium – February 22, 2019 – Beaulieu Fibres International, one of the leading polyolefin staple fibre producers, is pleased to announce the achievement of Highly Protected Risk (HPR) status for its production site in Wielsbeke, a designation that means a facility meets the highest industry standards for property protection.
HPR status was awarded by FM Global, Beaulieu International Group's (B.I.G.) industrial property and business interruption insurer for the past three years. The company offers B.I.G a unique concept that supports the Group in reducing its exposure to loss and increasing its business resilience. A dedicated worldwide team of engineers focuses on providing assistance and protection of its assets, helping the Group to achieve a higher level of risk protection.
The Beaulieu Fibres International site produces high performance fibres for a large variety of applications and market segments. It scored exceptionally well in its FM Global assessment which focused on aspects including fire protection, protection against natural hazards, mechanical breakdown of machinery, cyber risks and consequent business interruption.
Its overall risk mark of 83 ranks it within the top 25% of its industry for fire risk prevention and protection.
Commenting on the Award, Maria Teresa Tomaselli, Global Sales Director Fibres, said: "This HPR fibre production site reinforces strongly our supply chain security and demonstrates our engagement towards our customers and partners. Our contingency planning and risk management are essential, well-considered elements within our long-term business strategy to demanding sectors such as Automotive, Geotextiles, Flooring industries."
Beaulieu Fibres International Wielsbeke is the fourth facility in the Group to attain HPR status, and the third in Europe. Fire risk prevention is a part of the Group's broader risk management activities. B.I.G. is investing in increasing the level of protection at all its plants to protect business continuity.
All business units of B.I.G. are also implementing a number of safety programmes to maintain strong safety records and further raise awareness of workplace safety.
Karena Cancilleri, Vice President Beaulieu Engineered Products, commented: "I am proud of Beaulieu Fibres International for achieving the highly-regarded FM Global HPR Award and setting an example for the whole Beaulieu International Group. This positive step reflects the strong commitment of the Engineered Products business unit and the rest of the Group to improve safety and protect our staff, workplaces and production facilities."
Beaulieu Fibres International received the HPR Award at a ceremony on February 20, 2019 attended by all maintenance staff and representatives of B.I.G. Management, Beaulieu Fibres International Management and FM Global Management.
Reader enquiries
Beaulieu International Group
Beaulieu Fibres International
Ooigemstraat 2B
Wielsbeke
Belgium
+32 56 66 81 91
www.beaulieufibres.com
---
Notes for editors
Beaulieu Fibres International
As largest European producer of polyolefin fibres, our company is part of the Engineered Products Business Unit of Beaulieu International Group, with headquarters in Belgium.
With three production sites in Europe – two in Belgium and one in Italy, we supply PP and PE/PP BICO fibres with linear densities of 1.0 to 500 dtex to customers in industries such as Automotive, Hygiene, Geotextiles, Flooring, Filtration and Upholstery. Our broad portfolio includes colored fibres, high elongation fibres, high tenacity fibres, ultrasoft fibres with different cross-sections, including trilobal, suitable for a wide range of processing technologies.
Member of Beaulieu International Group
Beaulieu International Group is a well-respected industrial group with headquarters in Belgium. It holds an important market position both in the production of raw materials and intermediate goods, and the supply of perfectly finished floorcoverings.
Beaulieu International Group is composed of three business units. 'Flooring Solutions', is a worldwide leader in wall-to-wall floorcoverings (carpet, needle felt, artificial grass, cushion vinyl, vinyl planks, laminate, parquet, wall panels and mats). A second business Unit, 'Polymers', produces polypropylene granules for numerous applications. The third business unit 'Engineered Products', houses the activities related to 'Fibres', 'Yarns', 'Technical Textiles' and 'Technical Sheets'.
Another division of Beaulieu International Group is specialized in the development and production of quality upholstery fabrics for the sofa industry.
Beaulieu International Group has more than 5,000 employees in 27 plants, 16 representative offices and distribution centres spread across 16 countries. In 2017, the combined turnover was close to €2 billion.
The Beaulieu International Group's entrepreneurial spirit and innovative ambitions make it the model of diversity and evolution within the sector. They allow it to create added value sustainably for customers, employees, suppliers, shareholders and for the society in which it operates.