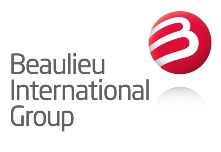 12 Nov 2018
Beaulieu Flooring Solutions lays out big plans for Beaulieu Company's diamond jubilee
The Beaulieu Company – today's Beaulieu International Group (B.I.G.) – was founded in 1959
Beaulieu Flooring Solutions marks 60th anniversary with more than 100 customer events worldwide
Wielsbeke, Belgium – November 12, 2018 – Beaulieu Flooring Solutions is heading to the regions for an exciting year of customer- and employee-focused celebrations to mark 60 years since the founding of the Beaulieu Company.
To kick off festivities, Beaulieu Flooring Solutions will exhibit at tradeshows spread across Europe, USA and Asia during the first quarter of 2019. Starting already in January at BAU 2019 in Germany, the marketing & technical experts will go straight on to Las Vegas for Surfaces, followed by Domotex USA and Domotex Asia in February/March respectively. Sales teams will be on-the-ground at additional industry events throughout the year for face-to-face meetings with customers, including Domotex 2019.
Further plans include new product introductions to support the flooring industry in embracing segment and consumer trends. There will also be a big emphasis on enhancing personal contact with customers.
James Neuling, Vice President, Beaulieu Flooring Solutions, explains: "Building strong relationships has always been at the heart of B.I.G. and our division, and to reflect this we've deliberately chosen events and activities that are more intimate for the diamond anniversary year. We've set a goal of achieving at least 60 extraordinary moments to get closer to customers. This includes tradeshows, personalized events, roadshows, hosting product workshops, supporting dealer events, and plenty of social media interaction. We're looking forward to being true to the name of our founding company and making a BIG impression."
Customers of Beaulieu Flooring Solutions will receive updates on the diamond anniversary activities rolling out in their region from their sales contacts. Keep up with events via the B.I.G. social media channels – Facebook, LinkedIn, Instagram, Twitter and WeChat.
The Beaulieu Company was created in 1959 in Belgium as a fabrics production business. It formed the basis of the globally-known Beaulieu International Group (B.I.G.). Beaulieu Flooring Solutions is a worldwide leader in wall-to-wall floorcoverings and one of B.I.G.'s three business units.
Notes to editors:
Beaulieu Flooring Solutions will exhibit at the following events in Q1 2019:
BAU 2019, 14 - 19 January, Munich, Germany, Hall A5 Stand 334
The International Surface Event, 23 - 25 January, Las Vegas, NV, USA, Booth 1757
Domotex USA, 28 February - 2 March, Atlanta, GA, USA, Booth 1431
Domotex Asia, 26 - 28 March, Shanghai, China, Hall E1 Stand C36
Reader enquiries
Beaulieu International Group
Beaulieu Flooring Solutions
Kalkhoevestraat 16 bus 0.1
8790 Waregem
Belgium
+32 56 62 59 00
bintg.com/en/our-solutions/flooring-solutions
@BeaulieuGroup
beaulieu-international-group
beaulieuinternationalgroup
---
Notes for editors
Beaulieu International Group
Beaulieu International Group is a well-respected industrial group with headquarters in Belgium. It holds an important market position both in the production of raw materials and intermediate goods, and the supply of perfectly finished floorcoverings.
Beaulieu International Group is composed of three business units. 'Flooring Solutions', is a worldwide leader in wall-to-wall floorcoverings (carpet, needle felt, artificial grass, cushion vinyl, vinyl planks, laminate, parquet, wall panels and mats). A second business Unit, 'Polymers', produces polypropylene granules for numerous applications. The third business unit 'Engineered Products', houses the activities related to 'Fibres', 'Yarns', 'Technical Textiles' and 'Technical Sheets'.
Another division of Beaulieu International Group is specialized in the development and production of quality upholstery fabrics for the sofa industry.
Beaulieu International Group has more than 5,000 employees in 27 plants, 16 representative offices and distribution centres spread across 16 countries. In 2017, the combined turnover was close to €2 billion.
The Beaulieu International Group's entrepreneurial spirit and innovative ambitions make it the model of diversity and evolution within the sector. They allow it to create added value sustainably for customers, employees, suppliers, shareholders and for the society in which it operates.