27 Sep 2013
Ascend Shares Customer-Driven Innovations at K 2013
Hall 07.1 Booth B35
K 2013, October 16-23, 2013
Düsseldorf, Germany
HOUSTON, TEXAS - September 27, 2013 - At K 2013, Ascend Performance Materials Inc., a leading producer of PA66 resin and chemical intermediates, will present its portfolio of Vydyne® PA66 products poised for launch into the automotive, cable tie, electrical and electronics, consumer and industrial, and compounding markets.
Ascend continually works with customers to address their performance and process needs, and comply with emerging regulatory environment. Ascend's fully-integrated and world-scale manufacturing assets supported by a global logistics and service network enable it to deliver reliable, high-quality PA66 resins and compounds to customers around the world.
Ascend's innovation pipeline offers a broad array of application-focused benefits. Customers can look forward to new possibilities for productivity improvements and design freedom in addition to benefits such as enhanced heat resistance, flame retardant capability and improved aesthetics.
At K 2013, Ascend will showcase:
High-productivity compounds from our new line in Pensacola, FL that combine high-flow low plate-out characteristics with tight viscosity control, targeted primarily at intricate high-volume electrical and electronic parts.
New automotive grades with enhanced thermal resistance for radiator end tanks, charge air coolers (intercoolers), fans and shrouds, under-hood connectors and other applications.
A new class of impact- and weather-resistant grades designed specifically for cable tie manufacturers who service the transportation, heavy equipment or industrial markets.
An improved specialty high-viscosity grade that offers superior balance of extrusion process efficiency and aesthetics that are desired in film packaging.
New compounding feedstock grades that offer additional options in terms of viscosity, and reactivity primarily aimed at increasing flexibility around the type and concentration of additives.
"Ascend is proud to provide customers with uniquely cost-advantaged, high quality, innovative products that create value and differentiation in end-use applications," said Dharm Vahalia, Global Marketing Director at Ascend Performance Materials. "At K 2013, we're looking forward to highlighting our refreshed portfolio and innovation pipeline."
For more information, meet the Ascend team at Booth B35 Hall 07.1 or visit www.ascendmaterials.com.
Reader enquiries
Ascend Performance Materials
JP Morgan Chase Tower
1010 Travis Street, Suite 900
Houston, TX 77002
U.S.A.
+1 713 315 5700
www.ascendmaterials.com
---
Notes for editors

About Ascend Performance Materials Operations LLC
scend is a global leader in proprietary technologies that are central to the production of nylon, plastics and synthetic fibers found in thousands of commercial and industrial products, including carpet, tires and apparel, as well as agricultural products, animal feed and personal care products. The business has world scale integrated manufacturing facilities which enables it to develop new products from its core technologies, and provides flexibility to respond to the expanding needs of its customers. Ascend has sales offices throughout the world, and five manufacturing facilities in the United States. More information is available at www.ascendmaterials.com. SK Capital Partners are indirect partial owners of Ascend Performance Materials Operations LLC.
About SK Capital Partners
SK Capital Partners, led by Managing Directors Barry Siadat, Jamshid Keynejad, Jim Marden, Jack Norris, and Aaron Davenport, is a transformational private investment firm focusing on acquiring assets in which its partners have deep industry knowledge through previous investments and experience, and the ability deploy substantive operational strategies to unlock value and deliver superior returns. These industries include niche segments of the specialty materials, chemicals and healthcare sectors. More information is available at www.skcapitalpartners.com.
Forward Looking Statements
This press release may contain forward-looking statements, which can be identified by the use of words such as "believes," "expects," "may," "will," "intends," "plans," "estimates" or "anticipates," or other comparable terminology, or by discussions of strategy, plans or intentions. These statements are based on management's current expectations and assumptions about the industries in which Ascend operates. Forward-looking statements are not guarantees of future performance and are subject to significant risks and uncertainties that may cause actual results or achievements to be materially different from the future results or achievements expressed or implied by the forward-looking statement. Ascend disclaims any intent or obligation to update or revise any forward-looking statements in response to new information, unforeseen events, changed circumstances or any other occurrence.
Source: Ascend Performance Materials Operations LLC, Houston
Related images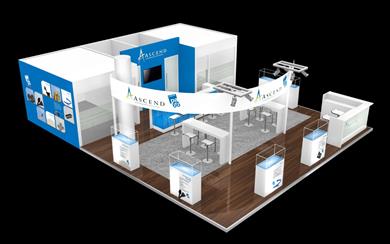 Also available in