22 Apr 2021
AFFIX Labs and leading seat manufacturer Franz Kiel GmbH strike deal to use Si-Quat, an anti-microbial coating effective against the virus that causes COVID-19, for the global transportation industry
AFFIX Labs' anti-microbial surface coating is being deployed to protect public transport interiors from contagious microbes such as the SARS-COV-2 virus, by Kiel, a global leader in the manufacture of transportation seating
Helsinki, April 22, 2021 - Millions of people rely on public transport infrastructure every day and it will be crucial to the opening of economies after COVID-19 lockdowns around the world. Yet many viruses and bacteria, including the SARS-COV-2 virus, can survive for up to 3 days on some surfaces, meaning regularly touched areas in public spaces have the potential to be cross contamination hotspots.
Now, AFFIX Labs' durable semi-permanent surface coating Si-Quat, that is proven to kill 99.9% of bacteria and viruses, including SARS-COV-2, will be helping to make public transport safer as people around the world begin getting back onto buses and trains.
Si-Quat helps to prevent cross contamination with a durable layer of polymerized active ingredient that binds to walls, handles, furniture, and other key touch points, staying in place for up to 12 months and killing 99.9% of viruses and bacteria that come into contact with the treated surface. The coating has been tested and certified to be effective against bacteria, viruses, and fungi, and has passed the rigorous EN45545-2 HL3 flammability norm for trains and REG118.3 for busses.
Kiel has been manufacturing high quality seating for public transport globally for more than 75 years and will now be offering Si-Quat to clients as a new solution to protect travellers on their transport networks. With Si-Quat already registered on several continents a quick roll out is truly achievable.
"We are delighted to be working with AFFIX Labs to roll out Si-Quat in public transport systems around the world. It's easy to apply, it works and we have had great support from the AFFIX-Labs team. We hope that our partnership can help to re-open countries and boost passengers trust in once again using public transport," said Daniel Fräde, Kiel's Sales Director Bus Division.
By treating the vast fleets of vehicles that power the mass movement of people in countries all over the world, AFFIX and Kiel Seating can create safe transportation interiors which are a key component of national infrastructures. We are proud to be part of the global effort to build a more future-proof response to COVID-19, and other contagions that have the potential to cause pandemics" concluded Tom Sam, CEO of AFFIX Labs.
Reader enquiries
AFFIX Labs
Affix Labs Oy
P.O. Box 176
00101 Helsinki
Finland
---
Notes for editors
About AFFIX Labs: Affix Labs, out of Helsinki, Finland, has specialised in durable environmentally friendly coatings that can bind to surfaces and textiles to imbue disease-fighting attributes. They do so in one of two ways; Repeltec, an insect repellent that does not kills insects but rather creates an area of effect that disorients them to reduce landings and bites; or Si-Quat and Clean N Coat, that kill viruses, bacteria and fungi on contact. Both of these solutions are durable and long lasting meaning they are not only effective but reduce time spent applying and reapplying. Learn more on www.AffixLabs.com, www.Si-Quat.com, www.Clean-n-Coat.com.
Related images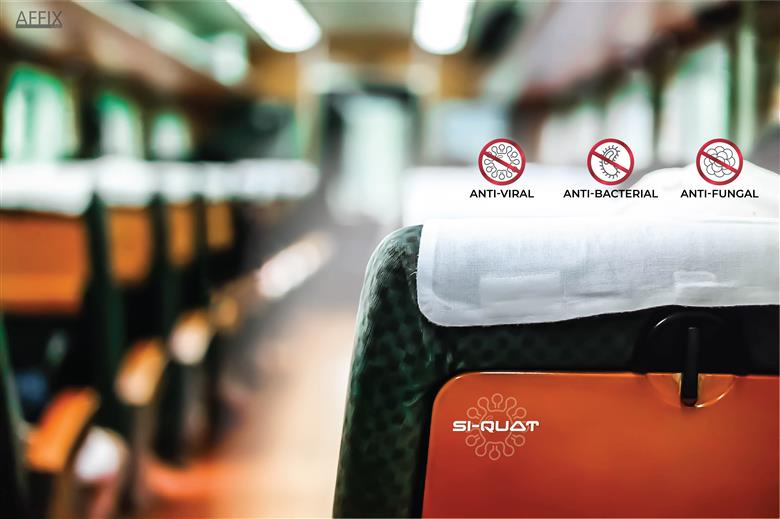 Editorial enquiries
Tom Sam
AFFIX Labs
Varsha Lalla
EMG